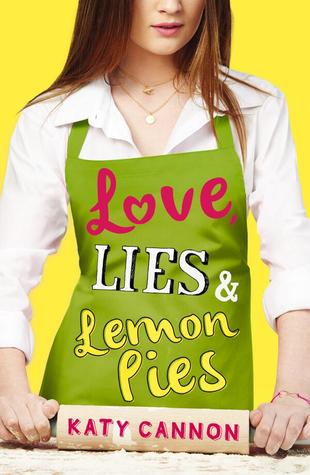 Title: Love, Lies & Lemon Pies
Author: Katy Cannon
Published: May 5th 2014
Publisher: Stripes Publishing
Genre: Young Adult, Contemporary, Romance
Length: 329 pages
I received a copy of this book from Little Stripes Publishing.
Book Blurb (via Goodreads):
Love, Lies and Lemon Pies, the debut YA novel from Katy Cannon, is the perfect summer read for fans of Sarah Dessen and Louise Rennison. With a Bake Club recipe at the start of each chapter, this book perfectly captures the current appetite for all things baking! Lottie, our narrator, captures the experience of a young teenage girl navigating the world of school cliques, difficult teachers and new romance, creating a world that young readers are sure to recognize. Since her dad died, life hasn't been the same for Lottie – it was easier to push her friends away than cope with their awkwardness. But when the school suggest she joins Bake Club to get her back on track, Lottie reluctantly agrees. But Lottie's uncertainty about Bake Club melts away as she rekindles her love of baking and gets caught up with Mac, the school rebel and another unwilling Bake Club member. Both Lottie and Mac have secrets to keep, and as Bake Club progresses towards an end-of-year competition, the tension rises between the Bake Club members. Can Lottie keep up the facade of her perfect life without the others finding out what's really going on at home? Can Mac keep his demanding, heavy-handed father off his back – not to mention the school counsellor who's written him off as a no-hoper? And can their bubbling romance survive the pressure?
Praise for Love, Lies & Lemon Pies
'Cannon deserves huge praise… well worth reading'
THE BOOKBAG
'Teen girls will devour this, and come back for more.'
BOOKS FOR KEEPS
'Thoroughly entertaining and filled with many heart-warming moments Love, Lies and Lemon Pies delivers in every way!'
BOOK PASSION FOR LIFE
My Thoughts
I loved this book. I devoured it. It's not often that I'll pick up a book and literally not be able to put it down, but Love, Lies & Lemon Pies was one of those books.
The Bake Club is an eclectic group of characters, all hiding a secret or two about their lives from the others. As Lottie grows closer to bad boy Mac, she fears that her secrets might be revealed to everyone. Her life is already hard after losing her father, she doesn't want to lose her mum too – that's why she fights with everything she has to stop that from happening, even if it means losing all the things she really loves.
I loved the special touch of adding the recipe at the start of each chapter, it really makes you want to try it out. The effortless way that Cannon weaves the baking into the story is fantastic.
Lottie and Mac are an adorable coupling, and the things that Mac does for Lottie is so cute! I loved all the characters from the Bake Club, even Grace, and it was really nice to see how much their friendship meant to them through their Bake Club bonds.
The big baking competition was exciting; the pressure that it put on the group as they realised that they all really wanted to win was intense. The ending didn't disappoint.
A great read for teens who love a good romance and/or baking!
This book is available at the following links: Amazon UK | Amazon US | Book Depository
---
About the Author
Kary Cannon was born in the United Arab Emirates, grew up in North Wales and now lives in Hertfordshire with her husband and daughter Holly. She did an English Literature degree at Lancaster University but soon found out that writing her own stories was much more fun than analyzing other people's. Katy loves animals and baking.
You can find out more about Katy on Twitter.