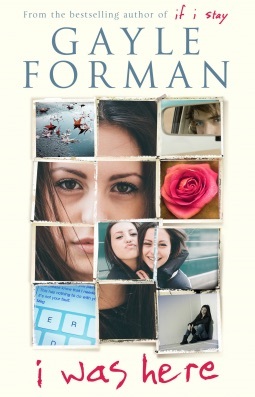 Title: I Was Here
Author: Gayle Forman
Published: 29th January 2015
Publisher: Simon & Schuster UK
Genre: Young Adult, Contemporary, Romance
Length: 288 pages
I received a copy of this book through NetGalley in exchange for an honest review.
Book Blurb (via Goodreads):
From the bestselling author of If I Stay – this summer's YA blockbuster film.

This characteristically powerful novel follows eighteen-year-old Cody Reynolds in the months following her best friend's shocking suicide.
As Cody numbly searches for answers as to why Meg took her own life, she begins a journey of self-discovery which takes her to a terrifying precipice, and forces her to question not only her relationship with the Meg she thought she knew, but her own understanding of life, love, death and forgiveness.

A phenomenally moving story, I Was Here explores the sadly all-too-familar issue of suicide and self-harm, addressing it with it sensitivity, genuity and honesty.
My Thoughts
I'm not sure what to say about this book. I found it lacking. The writing is great and it kept me engaged, but I didn't really feel a connection to Cody throughout.
I found it difficult to understand why Cody had pushed Meg away to start with, she insists that they were best friends but there was so many things going on in Meg's life that she didn't know about – it hardly seems like they were best friends anymore.
Then there's Ben. I don't understand how Cody could have fallen for him after the way he treated Meg and his attitude towards her to begin with. I get the whole 'falling for the bad boy' thing, but it just seemed too much of a stretch for me.
I'm not sure what to say about the suicide. It was the catalyst that projects Cody into Meg's unknown world, but I just found it difficult to wrap my head around the way that Cody was dealing with it. I can understand the need to feel like her friend wouldn't have really ended things herself, but her pseudo-detective skills and reckless choices seemed, again, a bit of a stretch.
I don't know. I just didn't connect with this one. It is a good story, I read it fairly quickly and didn't purposefully put it aside. It just wasn't one that emotionally invested me.
This book is available at the following links: Amazon UK | Amazon US | Book Depository
---
About the Author
Gayle Forman is an award-winning author and journalist whose articles have appeared in such publications as Jane, Seventeen, Glamour, Elle, and The New York Times Magazine, to name just a few. She lives in New York City with her husband and daughter.
You can find out more about Gayle at the following links: Twitter | Website