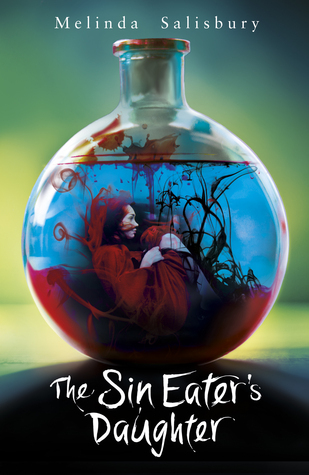 Title: The Sin Eater's Daughter
Author: Melinda Salisbury
Published: February 5th 2015
Publisher: Scholastic Press
Genre: Young Adult, Fantasy, Romance
Length: 333 pages
I bought a copy of this book from my local Waterstones.
Book Blurb (via Goodreads):
Seventeen-year-old Twylla lives in the castle. But although she's engaged to the prince, Twylla isn't exactly a member of the court.

She's the executioner.

As the Goddess embodied, Twylla instantly kills anyone she touches. Each month she's taken to the prison and forced to lay her hands on those accused of treason. No one will ever love a girl with murder in her veins. Even the prince, whose royal blood supposedly makes him immune to Twylla's fatal touch, avoids her company.

But then a new guard arrives, a boy whose easy smile belies his deadly swordsmanship. And unlike the others, he's able to look past Twylla's executioner robes and see the girl, not the Goddess. Yet Twylla's been promised to the prince, and knows what happens to people who cross the queen.

However, a treasonous secret is the least of Twylla's problems. The queen has a plan to destroy her enemies, a plan that requires a stomach-churning, unthinkable sacrifice. Will Twylla do what it takes to protect her kingdom? Or will she abandon her duty in favor of a doomed love?
My Thoughts
I was originally reading this book a chapter a day while reading other review books. It had me hooked from the get go and I couldn't wait to wake up each morning and read a chapter. Then things started to get really interesting and I found myself just reading a few more pages, then another chapter, and pretty soon, I'd finished the book.
And wow, that ending!
Twylla is Daunen Embodied – the reincarnated daughter of Daeg (the sun/male god) and Naeht (the moon/female god) – and with this comes a huge responsibility. She can kill people with a single touch. The queen took her from her home when she was younger – before that her destiny was to become the kingdom's next Sin Eater, like her mother before her. Now Twylla is destined to marry the prince and usher in a new Golden Age in Lormere. But things start to go horribly wrong when her faithful guard is taken ill and new guard, from the enemy neighbouring town of Tregellan, is introduced to her.
I really enjoyed the dynamics between all the characters: Twylla and the queen, Twylla and Lief, Twylla and Merek, Merek and the queen. It was interesting to see how all these characters changed and reacted around each other. I did feel like Twylla and Lief's relationship progressed unnaturally fast, but given the circumstances, I can understand it.
What totally threw me was the last 100 pages or so. All the shocking things that were revealed really threw me for a loop! I can't say too much because spoilers, but I was not expecting any of it!
There's so many fascinating lore stories packed into this that I really enjoyed: the Sin Eater (who eats dishes that represents a person's sin at their funeral), the Sleeping Prince (the cursed prince of a fallen kingdom), and Daunen Embodied (the reincarnated daughter of the gods who has a very unique, deadly, gift).
I found nothing not to love about this book.
This books is available at the following links: Amazon UK | Amazon US | Book Depository
---
About the Author
Melinda Salisbury lives by the sea, somewhere in the south of England. As a child she genuinely thought Roald Dahl's Matilda was her biography, in part helped by her grandfather often mistakenly calling her Matilda, and the local library having a pretty cavalier attitude to the books she borrowed. Sadly she never manifested telekinetic powers. She likes to travel, and have adventures. She also likes medieval castles, non-medieval aquariums, Richard III, and all things Scandinavian The Sin Eater's Daughter is her first novel.
You can find out more about Melinda at the following links: Twitter | Website
---
Just for fun
Here was my initial reaction to finishing the book. I took to Twitter, obviously.