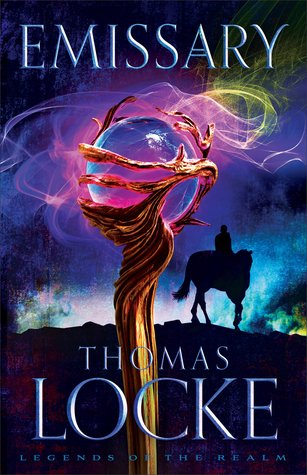 Title: Emissary
Author: Thomas Locke
Published: January 6th 2015
Publisher: Fleming H. Revell Company
Genre: Young Adult, Fantasy
Length: 384 pages
I received a copy of this book from NetGalley in exchange for an honest review.
Book Blurb (via Goodreads):
Hyam is a likeable lad who will make a fine farmer someday. But he carries a burden few can fathom. As his mother slips toward death, she implores him to return to Long Hall, where he spent five years as an apprentice. It was there that Hyam's extraordinary capacity for mastering languages came to light–and soon cast him into the shadows of suspicion. How could any human learn the forbidden tongues with such ease? When Hyam dares to seek out the Mistress of the Sorceries, her revelation tears his world asunder.

He has no choice but to set out on the foreboding path–which beckons him to either his destiny or his doom. An encounter with an enchanting stranger reminds him that he is part hero and part captive. As Hyam struggles to interpret the omens and symbols, he is swept up by a great current of possibilities–and dangers.
My Thoughts
I actually started this story a while ago and put it down in favour of some others because it wasn't holding my interest as much, but once I sat down and read through it completely, I actually really enjoyed it and it left me wanting more.
Emissary follows Hyam, a young farmer, who was cast of the Long Hall where he was training to be a mage. He soon discovers that his life has been a lie and he may be of the Milantian blood – a hated race that almost wiped out the elves. Forced to partake in a journey to visit the Ashanta people for answers, Hyam becomes their Emissary and holds their authority in the land as he sets out to tackle an unknown foe of intense power.
It has a slow build up, I'm not going to lie about that, but once the action sets in, you're really swept into it and I found it hard to put down. It did end rather abruptly, I was expecting more from it, but it does set up nicely for the next book.
I had a lot of unanswered questions by the time the book was finished, specifically about Hyam's heritage and why the new king was doing what he was doing.
It's a rich fantasy world with a great cast of characters. An overall brilliant fantasy.
This book is available at the following links: Amazon UK | Amazon US | Book Depository
---
About the Author
Thomas Locke is an award-winning novelist with total worldwide sales of seven million copies.
His work has been published in twenty languages, and critical acclaim includes four Christy Awards for excellence in fiction and his 2014 induction into the Christy Hall of Fame.
Thomas divides his time between Florida and England, where he serves as Writer In Residence at Regent's Park College, Oxford University. He holds a lifelong passion for epic fantasy, science fiction and techno-thriller stories.
You can find out more about Thomas at the following links: Twitter | Website