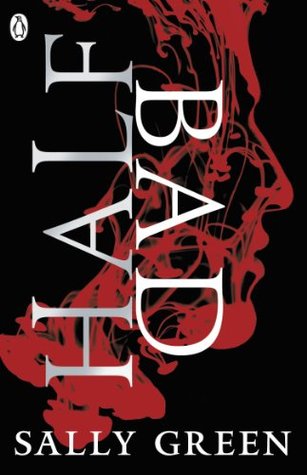 Title: Half Bad
Author: Sally Green
Published: March 27th 2014
Publisher: Penguin
Genre: Young Adult, Fantasy, Supernatural
Length: 380 pages
I purchased a copy of this book from the Book Depository.
Book Blurb (via Goodreads):
Wanted by no one.
Hunted by everyone.

Sixteen-year-old Nathan lives in a cage: beaten, shackled, trained to kill. In a modern-day England where two warring factions of witches live amongst humans, Nathan is an abomination, the illegitimate son of the world's most terrifying and violent witch, Marcus. Nathan's only hope for survival is to escape his captors, track down Marcus, and receive the three gifts that will bring him into his own magical powers—before it's too late. But how can Nathan find his father when there is no one safe to trust, not even family, not even the girl he loves?

Half Bad is an international sensation and the start of a brilliant trilogy: a gripping tale of alienation and the indomitable will to survive.
My Thoughts
Half Bad is not your typical YA book about witches. It was refreshing and new and terrifying all mixed together to create a fantastic read.
Nathan is a half code (meaning that he is half white witch, half black witch).The Council is made up of white witches who put Nathan through assessments every year to determine if he will be designated as a white witch.
It's a good mix of present day Earth setting, mixed with magic and witches. The brutality that some of the white witches would stoop to against Nathan had me genuinely horrified at points.
All Nathan wants to do is receive three gifts on his seventeenth birthday so he can find out what his Gift will be. If he doesn't get them, he's afraid of what will happen. Nathan's father happens to be the most wanted black witch there is though, so the Council are doing everything they can to stop Nathan from having an easy life.
I really enjoyed this story, although it did move rather slowly at certain points. The ending was a great cliffhanger and I'm looking forward to jumping into the second book, Half Wild, soon.
This book is available at the following links: Amazon UK | Amazon US | Book Depository
---
About the Author
Hi – I'm Sally Green, author of Half Bad. It's my first book – and the first in a series of three, to be published by Penguin in March 2014.
I've had a whirlwind 2013, submitting Half Bad to an agent in January (and getting an agent – the wonderful Claire) and then agreeing a deal with Puffin (UK) and Viking (USA) in March. In April I agreed a film deal with Fox 2000 with Karen Rosenfelt as producer (google her!). Since then Half Bad has been sold to more countries, and I've been busy editing Half Bad and have started work on the second book of the trilogy.
I live in north-west England. I love to read, walk in the country and would like to drink less coffee (but I know it's impossible – I'm an addict)!
You can find out more about Sally at the following links: Website | Twitter