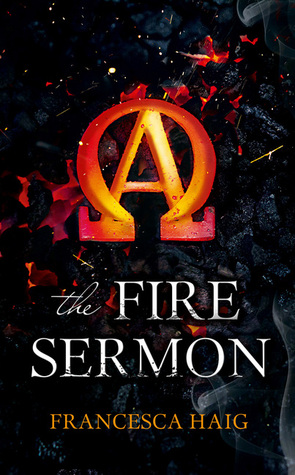 Title: The Fire Sermon
Author: Francesca Haig
Published: February 23rd 2015
Publisher: HarperVoyager
Genre: Young Adult, Dystopian
Length: 423 pages
I received a copy of this book through NetGalley in exchange for an honest review.
Book Blurb (via Goodreads):
When Zach and I were born our parents must have counted and recounted: limbs, fingers, toes. We were perfect. They would have been disbelieving: nobody dodged the split between Alpha and Omega.

Nobody.

They were born together and they will die together.

One strong Alpha twin and one mutated Omega; the only thing they share is the moment of their death.

The Omegas live in segregation, cast out by their families as soon as their mutation becomes clear. Forced to live apart, they are ruthlessly oppressed by their Alpha counterparts.

The Alphas are the elite. Once their weaker twin has been cast aside, they're free to live in privilege and safety, their Omega twin far from their thoughts.

Cass and Zach are both perfect on the outside: no missing limbs, no visible Omega mutation. But Cass has a secret: one that Zach will stop at nothing to expose.

The potential to change the world lies in both their hands. One will have to defeat the other to see their vision of the future come to pass, but if they're not careful both will die in the struggle for power.
My Thoughts
I was really excited to read this book, it's been so hyped and everyone seems to have read it. I wasn't disappointed. I knew very little about this book before I read it, except the fact that everyone who had read it, loved it.
After a blast wiped out most of the population, civilization has slowly rebuilt itself. Ever since the blast, every pregnancy has resulted in twins – one boy and one girl. One twin always has some kind of deformity, and that child is taken away from their sibling and sent to a community of others like them. They're called Omegas and they're not worth the Alphas time, in the Council's opinion.
I loved the ideas behind this novel. The twins, the deformities, the powers that certain Omegas have being seers. It all intertwined into a rich culture in a post-apocalyptic kind of world.
The dynamics between Cass and Kip were great, I liked how they clicked and worked together. Their co-dependence was sweet, and the way that they struggled and still managed to survive throughout the whole ordeal was incredible.
I was not prepared for the revelation at the end, although, like Cass, I feel like I knew it was coming all along. I still couldn't believe it though.
There are so many things about this book to love. I'd definitely recommend picking it up if you haven't already.
This book is available at the following links: Amazon UK | Amazon US | Book Depository
---
About the Author
Francesca Haig is an author and academic. Her poetry is widely published, and her novel The Fire Sermon (the first in a post-apocalyptic trilogy) will be published in February 2015 by HarperVoyager (UK) and March 2015 by Simon & Schuster (US and Canada), and is being translated into more than 20 languages. She gained her PhD from the University of Melbourne, and her principal research area is Holocaust literature. She grew up in Tasmania, and currently lives in London.
You can find out more about Francesca on her Twitter.