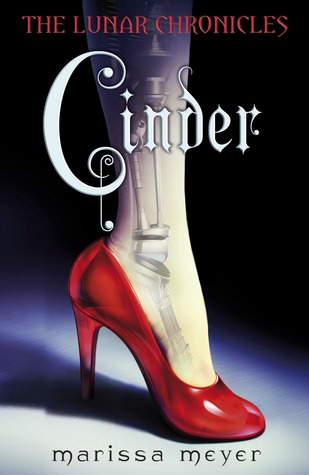 Title: Cinder
Author: Marissa Meyer
Published: January 5th 2012
Publisher: Puffin
Genre: Young Adult, Fantasy, Dystopian, Steampunk, Fairy Tale
Length: 387 pages
I bought a copy of this book from the Book Depository.
Book Blurb (via Goodreads):
Cinder, a gifted mechanic in New Beijing, is also a cyborg. She's reviled by her stepmother and blamed for her stepsister's sudden illness. But when her life becomes entwined with the handsome Prince Kai's, she finds herself at the centre of a violent struggle between the desires of an evil queen – and a dangerous temptation.
My Thoughts
The Lunar Chronicles is a books series that I hadn't heard about until I started blogging, and I'm so glad that I picked up Cinder.
Basically a re-telling of Cinderella, but with a new twist in that Cinder is a cyborg mechanic from New Beijing, Cinder captured my imagination from the beginning. I loved the dystopian/steampunk setting and the fresh take on the familiar fairy tale. It felt new and exciting.
The characters were all unique and each had qualities that I liked. Except, of course, Queen Levana. For those of you that have already read the books, you'll understand completely. Queen Levana is just one of those characters that you hate instantly – like Dolores Umbridge from Harry Potter.
Of course, it wouldn't be a great story without hitting me right in the feels. There's some sad times in this book that almost had me in tears.
To counter that, the budding romance between Cinder and the charming Prince Kai was fun. I loved the banter between the pair and felt awful that Cinder felt like she couldn't share the truth with him.
I'll admit that I figured out the twist early on, which was a bit disappointing because I love it when a twist catches me by surprise. That's the only reason that I didn't give this book five stars.
A perfect fairy tale re-telling with a fresh perspective that captures the imagination.
This book is available at the following links: Amazon UK | Amazon US | Book Depository
---
About the Author
I live in Tacoma, Washington, with my fiancé and our two cats. In addition to my slight obsession with books and writing, I'm big on road-tripping, wine-tasting, and hunting for antiques. I'm represented by Jill Grinberg.
Find out more about Melissa at the following links: Website | Twitter