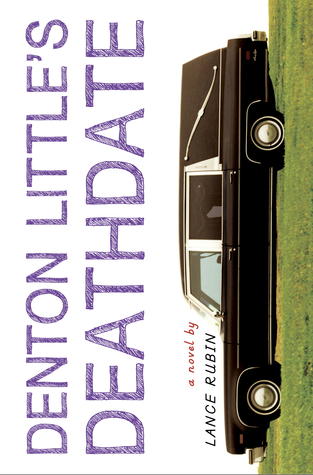 Title: Denton Little's Deathdate
Author: Lance Rubin
Published: March 26th 2015
Publisher: Simon & Schuster UK Children's
Genre: Young Adult, Contemporary, Fantasy
Length: 352 pages
I received a copy of this book through NetGalley in exchange for an honest review.
Book Blurb (via Goodreads):
Fans of John Green and Matthew Quick: Get ready to die laughing.

Denton Little's Deathdate takes place in a world exactly like our own except that everyone knows the day they will die. For 17-year-old Denton Little, that's tomorrow, the day of his senior prom.

Despite his early deathdate, Denton has always wanted to live a normal life, but his final days are filled with dramatic firsts. First hangover. First sex. First love triangle (as the first sex seems to have happened not with his adoring girlfriend, but with his best friend's hostile sister. Though he's not totally sure. See: first hangover.) His anxiety builds when he discovers a strange purple rash making its way up his body. Is this what will kill him? And then a strange man shows up at his funeral, claiming to have known Denton's long-deceased mother, and warning him to beware of suspicious government characters…. Suddenly Denton's life is filled with mysterious questions and precious little time to find the answers.

Debut author Lance Rubin takes us on a fast, furious, and outrageously funny ride through the last hours of a teenager's life as he searches for love, meaning, answers, and (just maybe) a way to live on.
My Thoughts
Imagine a world where you know the exact day you're going to die. For me, that is a terrifying thought. I don't know what I would do with myself if I had a deathdate like Denton – who is due to die before he's even graduated from high school.
As an 'Early' – someone who is dying young – Denton has always just tried to live a normal life, but now that his death is imminent, he begins to question whether he shouldn't have tried to be even a little more rebellious.
When a strange man approaches Denton while at his funeral (because that's a thing you can do when you know you're going to die, be at your own funeral), Denton begins to ask more questions about his biological mother and his past.
Things quickly go from bad to worse when an unexplained splotch appears on his thigh (is this how he's going to die?) and his girlfriend's crazy ex-boyfriend begins threatening him (or is this how he's going to die?). Denton's last day just went from dull and boring to near-death exciting.
A crazy adventure from start to finish with some hilarious comments and moments that had me laughing out loud. Denton Little's Deathdate is one not to be missed.
This book is available at the following links: Amazon UK | Amazon US | Book Depository
---
About the Author
Hey there, I'm Lance Rubin.
After years of being a GoodReads reader, I am delighted to now also be a GoodReads author. My first book, DENTON LITTLE'S DEATHDATE, comes out from Knopf in Spring 2015.
I'm from New Jersey. It's a way better state than people give it credit for. I went to Brown University, and now I live in Brooklyn with my wife and son. They are delightful people.
Before I became an author, I was primarily an actor. "Anything I'd recognize you from?" you might ask. Probably not, unless you watched the short-lived NBC hospital show MERCY, in which I guest-starred as a patient with a naked sleepwalking problem.
By my late 20's, the acting business was making me sad, so I started to focus more on writing.
Now I'm primarily a writer and it makes me incredibly happy.
Harry Potter is one of my favorite things of all time. JK Rowling is a storytelling genius, I'm endlessly impressed by what she did there. AZKABAN is my favorite, if only because it has one of the most satisfying climaxes ever. And involves time travel.
I also love Josh Ferris's THEN WE CAME TO THE END, Julie Orringer's THE INVISIBLE BRIDGE, Stephen King's 11/22/63, Elizabeth Strout's OLIVE KITTERIDGE, Sherman Alexie's THE ABSOLUTELY TRUE DIARY OF A PART-TIME INDIAN, Lois Lowry's THE GIVER, and everything by George Saunders, Michael Chabon, and Jonathan Lethem.
BACK TO THE FUTURE is my favorite movie. When I was younger, I dreamed about being Marty McFly. Now I dream about being an amalgam of Robert Zemeckis and Bob Gale. I don't really dream that. But I love the screenplay they wrote.
I also love Pixar, the New York Knicks, Joss Whedon, and the Before Sunrise Trilogy.
Some last things:
-I have a podcast with one of my best friends, Ray Munoz. Our guests are often people with careers in the arts. We talk about creativity and make jokes. Always 20 minutes or less. Listen on iTunes or here: www.thelanceandrayshow.com
-I often battle the demons of procrastination. In fact, I shouldn't be writing this bio right now. I'm supposed to be working on my second book, a companion to the first. I will get back to it in two minutes. I swear.
-I am not a cat person, but I respect people who are. Kind of.
-I am the voice of the Berenstain Bears audiobooks.
-I am very bad at baseball.
I'm so glad to be here. Can't wait for you all to read DENTON LITTLE'S DEATHDATE. Reach out and say hello!
You can find out more about Lance at the following links: Website | Twitter