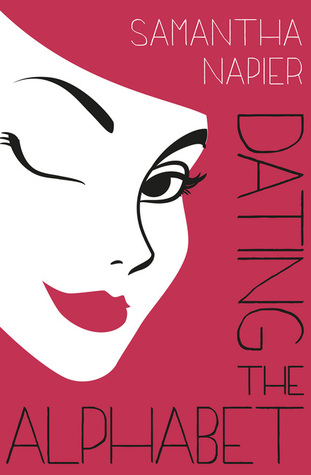 Title: Dating the Alphabet
Author: Samantha Napier
Published: March 1st 2015
Publisher: AUS Impulse
Genre: Adult, Romance
Length: 100 pages
I received a copy of this book through NetGalley in exchange for an honest review.
Book Blurb (via Goodreads):
From Archie to Zolon, Ramona is determined to find a happy ending to her fairytale. Ramona Rawlings is going to make dating fun again. Armed with an alphabet poster, post-it notes and her best friend Emma, Ramona is going to date the alphabet – from A to Z, Archie to Zolon and everything in between. Throw in the chaos of managing a theatre restaurant with a roster full of strong personalities, unfulfilled dreams and lustful hook ups and Ramona's world is turned upside-down. In between Evan the arrogant, Ivan the emotionally stunted and Glen the racist, Ramona discovers what she really wants: to be a good friend, to emotionally connect with a man and to replace her vodka-tonics with kale smoothies. But how many frogs will she have to kiss before she finds her fairytale?
My Thoughts
Ramona has come up with the perfect plan to get her back into the world of dating: she's going to date the alphabet. Finding a guy for each letter seems the perfect idea to her and she's sure to be in for an interesting array of dates.
From the sexist and racist narcissist, to the good looking guy who just isn't over his ex, to the man who is obviously gay – Ramona has her fair share of bad luck with the dates.
Meanwhile, her character-themed restaurant is under threat and her relationship with her best friend is starting to hit rocky territory.
I actually really enjoyed this story. It was fun, light-hearted and a quick read. Ramona's dates are often disastrous but hilarious and it's wonderful to see her really care about the people working in her restaurant when things go wrong.
The creative ways her friends rally dates for her was interesting and fun, and of course, her 'prince charming' was in front of her the whole time. It's got a really sweet ending that leaves you with that warm fuzzy feeling.
A perfect read for romance fans.
This book is available at the following links: Amazon UK | Amazon US
---
About the Author
Samantha started her career in entertainment dressed as Snow White in a theatre restaurant. There she met her husband, Gordon, also a writer and together they started their own production which resulted in three lovely, loud boys. She has had short plays produced and is looking forward to the debut of her full length play Signing Off and comedy web series Kings of the Kitchen. Samantha and Gordon also hold their workshop Book, Screen or Stage to help writers see the potential their project could have. Her time in the theatre restaurant and the stories her fellow flight attendants have shared with her have inspired Dating the Alphabet.