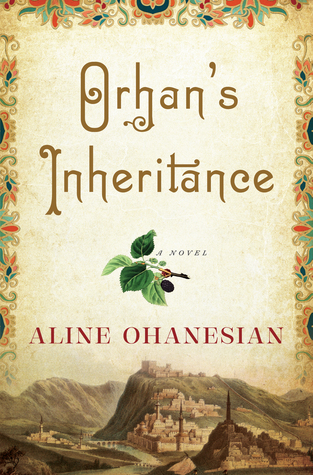 Title: Orhan's Inheritance
Author: Aline Ohanesian
Published: April 7th 2015
Publisher: Algonquin Books
Genre: Historical Fiction
Length: 352 pages
I received a copy of this book through NetGalley in exchange for an honest review.
Book Blurb (via Goodreads):
In her extraordinary debut, Aline Ohanesian has created two remarkable characters—a young man ignorant of his family's and his country's past, and an old woman haunted by the toll the past has taken on her life.

When Orhan's brilliant and eccentric grandfather Kemal—a man who built a dynasty out of making kilim rugs—is found dead, submerged in a vat of dye, Orhan inherits the decades-old business. But Kemal's will raises more questions than it answers. He has left the family estate to a stranger thousands of miles away, an aging woman in an Armenian retirement home in Los Angeles. Her existence and secrecy about her past only deepen the mystery of why Orhan's grandfather willed his home in Turkey to an unknown woman rather than to his own son or grandson.

Left with only Kemal's ancient sketchbook and intent on righting this injustice, Orhan boards a plane to Los Angeles. There he will not only unearth the story that eighty-seven-year-old Seda so closely guards but discover that Seda's past now threatens to unravel his future. Her story, if told, has the power to undo the legacy upon which his family has been built.

Moving back and forth in time, between the last years of the Ottoman Empire and the 1990s, Orhan's Inheritance is a story of passionate love, unspeakable horrors, incredible resilience, and the hidden stories that can haunt a family for generations.
Advance Praise
"Aline Ohanesian draws from her family's own dark history to create a tender, powerful story of love and reclamation. Orhan's Inheritance is a breathtaking and expansive work of historical fiction and proof that the past can sometimes rewrite the future." —Christina Baker Kline, author ofOrphan Train
My Thoughts
Wow. I was blown away by this book. It's not often that I'll find a book that takes me a few days to write the review, but this one had such a profound effect on me that I had to stop and take stock before I committed this review to writing.
Orhan's Inheritance is about Orhan's journey to find out why his grandfather left the family home to an old woman living in a care home in America. What unfolds through the flashbacks to his grandfather's past is eye opening and horrifying.
Seda has had to suffer inconceivable hardness in terms of going from one of her area's richest families to being cast out and forced to march through a desert with no food while her family and friends fall around her to the cruelty of their so-called protectors.
I was stunned by this story. I, along with many others I'm sure, had known very little about the Armenian suffering during war time and so I was not prepared for what was unveiled through the story. It was heart-breaking to read the trials that Seda and her family went through. I could instantly understand why the woman didn't want to talk about it.
Throwing a harsh light on what life was like for Armenian people, Ohanesian doesn't shy away from the gory details. The other shocking revelations from Orhan's family's past was something I wasn't prepared for either.
This book shocked and surprised me in so many ways, I'm still trying to get my head around it all. An honest, heart-breaking debut that I feel is so important in portraying a little known horror. So much is still told about the Holocaust, but I think that this should be equally recognised.
A must read, for sure.
This book is available at the following links: Amazon UK | Amazon US | Book Depository
---
About the Author
Aline Ohanesian was born in Kuwait to Armenian parents. She grew up in Northridge California and currently lives in San Juan Capistrano with her husband and two sons. Orhan's Inheritance is her first novel.
You can find out more about Aline at the following links: Twitter | Website