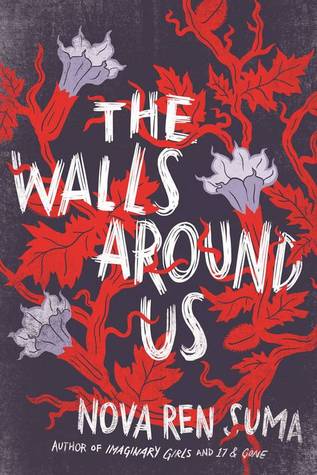 Title: The Walls Around Us
Author: Nova Ren Suma
Published: March 24th 2015
Publisher: Algonquin Young Readers
Genre: Young Adult, Contemporary, Horror
Length: 336 pages
I received a copy of this book through NetGalley in exchange for an honest review.
Book Blurb (via Goodreads):
On the outside, there's Violet, an eighteen-year-old dancer days away from the life of her dreams when something threatens to expose the shocking truth of her achievement.

On the inside, within the walls of the Aurora Hills juvenile detention center, there's Amber, locked up for so long she can't imagine freedom.

Tying their two worlds together is Orianna, who holds the key to unlocking all the girls' darkest mysteries…

What really happened on the night Orianna stepped between Violet and her tormentors? What really happened on two strange nights at Aurora Hills? Will Amber and Violet and Orianna ever get the justice they deserve—in this life or in another one?

In prose that sings from line to line, Nova Ren Suma tells a supernatural tale of guilt and of innocence, and of what happens when one is mistaken for the other.
My Thoughts
This book was beautiful in an almost heart breaking way. Telling the story of the inmates in a high security juvenile detention centre for girls as well as the story of the girl who got away with a crime.
Alternating between Violet, a ballerina who has everything she's ever wanted, and Amber, an inmate at the detention centre who may or may not have murdered her step-father, we're taken on a journey through the past and present leading up to the moment that Violet faces what she did – not only her crime, but the guilt that weighs upon her for letting her best friend take the fall.
I loved Amber's chapters, the solidarity she felt with the other inmates, even though they all ignored her. The way she talked about them as though they were one unit was horribly sad, she so desperately wanted to belong to them.
Violet's chapters are what made me give this such a low rating. She wasn't a character a was able to connect with, in any form, and so I found her chapters distracting and even annoying. She's very arrogant and believes that she's the be-all and end-all of everything. Her attitude towards others and the events that took place disgusted me.
The twist in the tale was unexpected, for me, but beautifully executed. Such a sad ending for the inmates but an overall happy ending. A solid story but Violet's character just didn't make it as enjoyable a read as it could have been for me.
This book is available at the following links:
Non-Affiliate: Amazon UK | Amazon US
Affiliate: Book Depository
---
About the Author
Nova Ren Suma is the author of the YA novels THE WALLS AROUND US as well as the YA novels IMAGINARY GIRLS and 17 & GONE, which were both named 2014 Outstanding Books for the College Bound by YALSA. Her middle-grade novel, DANI NOIR, was reissued for a YA audience under the title FADE OUT. She has a BA in writing & photography from Antioch College and an MFA in fiction from Columbia University and has been awarded fiction fellowships from the New York Foundation for the Arts, the MacDowell Colony, Yaddo, the Djerassi Resident Artists Program, the Millay Colony, and an NEA fellowship for a residency at the Hambidge Center. She worked for years behind the scenes in publishing, at places such as HarperCollins, Penguin, Marvel Comics, and RAW Books, and now she teaches writing workshops. She is from various small towns across the Hudson Valley and lives and writes in New York City.
You can find out more about Nova at the following links: Website | Twitter