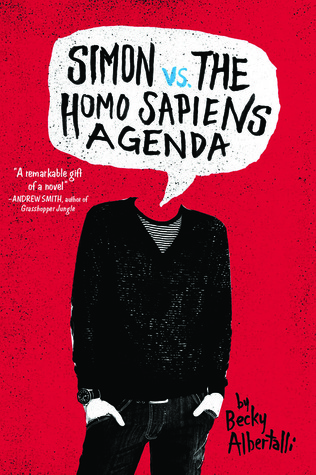 Title: Simon vs. the Homo Sapiens Agenda
Author: Becky Albertalli
Published: April 7th 2015
Publisher: Penguin
Genre: Young Adult, Contemporary, Romance, LGBT
Length: 303 pages
I received a copy of this book through NetGalley in exchange for an honest review.
Book Blurb (via Goodreads):
Sixteen-year-old and not-so-openly gay Simon Spier prefers to save his drama for the school musical. But when an email falls into the wrong hands, his secret is at risk of being thrust into the spotlight. Now Simon is actually being blackmailed: if he doesn't play wingman for class clown Martin, his sexual identity will become everyone's business. Worse, the privacy of Blue, the pen name of the boy he's been emailing, will be compromised.

With some messy dynamics emerging in his once tight-knit group of friends, and his email correspondence with Blue growing more flirtatious every day, Simon's junior year has suddenly gotten all kinds of complicated. Now, change-averse Simon has to find a way to step out of his comfort zone before he's pushed out—without alienating his friends, compromising himself, or fumbling a shot at happiness with the most confusing, adorable guy he's never met.
My Thoughts
This book! I honestly wasn't expecting it to be as adorable as it was. I finished this book and had a serious case of the warm fuzzies. It's a perfect blend of serious and funny.
Simon is 16 years old and gay. But he's not open about it. The only person who knows is his online friend, Blue, who is also gay but not openly. They met through their school's anonymous confessions Tumblr and began emailing back and forth. The exchanges between the two are ridiculously cute, with their shy flirting and embarrassed attitudes.
Simon's life gets complicated when his classmate, Martin, decides to blackmail him about his sexual identity in return for getting a date with Simon's friend.
The dialogue in this book is just amazing, it's so down to earth and realistic, it's hard to remember that this book was written by a woman and not a teenage boy! Albertalli expertly weaves the threads of the teenagers lives together, creating a cast of diverse characters with strong personalities.
Throughout the story, while Simon deals with the fallout of coming out and hiding things from his friends, we're taken on a journey as Simon tries to figure out who exactly Blue is. I'll admit, I didn't work it out, at all. The pair are adorable though, and I think they are perfect for each other in their awkward, goofy way.
This book leaves you smiling and with a warm feeling in your chest. I had a serious case of the warm fuzzies for days after finishing this book. Everyone should read it.
This book is available at the following links:
Non-Affiliate: Amazon UK | Amazon US
Affiliate: Book Depository
---
About the Author