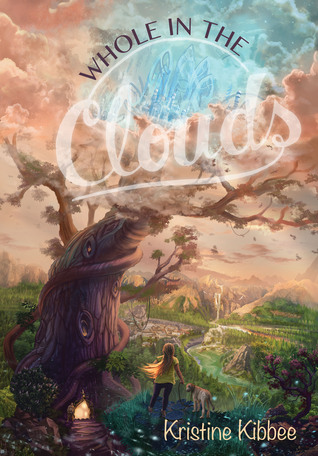 Title: Whole in the Clouds
Author: Kristine Kibbee
Published: November 6th 2014
Publisher: illusio & baqar
Genre: Middle Grade, Fantasy
Length: 156 pages
I received a copy of this book through NetGalley in exchange for an honest review.
Book Blurb (via Goodreads):
An unhappy orphan, Cora Catlin is a misfit at best, an outcast at worst. She feels out of place in her life, as if everything is backwards and part of her is missing. But her long, tormented hours in hum-drum Harborville take a decidedly upward turn when she encounters an elfin stranger who takes her to a mystical world that awaits her atop the clouds.​

Complete with trees that sprout children, shy unicorns, elves who move at dizzying speeds, inchworms who wear spectacles, and even a pudgy little girl who is magically transformed into an ethereal beauty.

Exploring this new land alongside her devoted dog Motley, Cora unearths secrets and wonders beyond her wildest imagining. She discovers the meaning of genuine friendship, true love, and what it means to finally feel whole, Whole in the Clouds.
My Thoughts
I have mixed feelings about this book. On the one hand, it's a charming tale about a magical world where inner beauty shows, animals can talk, unicorns exist, and you can eat what you like without any repercussions. On the other hand, this book doesn't have the great uplifting message I had been hoping for and it does have a 'all humans are evil' vibe to it too.
Cora is a young girl who is struggling with weight issues. Bullied at school by the pretty, thin girls and bullied at home by her mother – who is only trying to help, but in the worst possible way by continually reminding her daughter that she's fat. I had thought that this story would be about Cora finding the strength within herself to be happy with who she is and overcome the bullies. Not so.
When Cora finds out about the magical kingdom of Clouden she immediately abandons her life on earth and goes there – almost entirely forgetting about her parents in the process. The story moves at a slow pace and not a lot happens other than Cora marvelling at the wondrous things around her. It got a bit boring at this point, if I'm honest.
The overall plot of the two families that were best friends and then fell out and now there's a war, is one that I've seen many times before – especially when the son of one family is in love with the daughter of the other and the parents do everything to keep them apart. It's been done, and it's been done better.
This wasn't a terrible story. It has lots of magic and fun, but it wasn't enough for me to consider it a really good read. It's okay, and relatively short too so it wouldn't take long to read.
Not one that I can rave about though.
This books is available at the following links:
Non-Affiliate Links: Amazon UK | Amazon US
Affiliate Links: Book Depository
---
About the Author
Kristine Kibbee is a Pacific Northwest native with a love of language, nature, and animals. Kristine's passion for creative writing began in her early youth and led her to Washington State University, where she earned a degree with a concentration in professional writing. Kristine has since had works published in The Vancougar, The Salal Review, S/tick Literary Review, and she is a featured columnist in the nationally syndicated magazine, Just Frenchies.
From the small town of Castle Rock, Washington, nestled among 22 acres of towering fir trees, Kristine relishes time spent outdoors with her two French bulldogs and one husband. She dreams of making the everyday world more magical with her fantasy novels.
Whole in the Clouds is her first middle grade novel.
You can find out more about Kristine through her Twitter.