Wow! It's already been a month since I started my latest #TBRDemolition binge?! I read some really great books during the time and I've somehow still not managed to catch up with my reviews. I will get there, I swear! See below for final details.
---
Books Read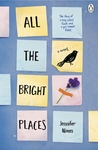 ---
Books Read But Not Finished
I Am Radar – 11%
Siren's Fury – 11%
City of Bones – 9%
Cleo – 11%
Dare to Dream – 22%
One Piece Vol. 19-20-21 – 15%
Buzz Books 2015: Young Adult Fall/Winter – 12%
Fire Colour One – 10%
Only Ever Yours – 4%
---
Final Comments
I did a lot of reading, but jumped between books quite a bit and now I have too many half-read books!