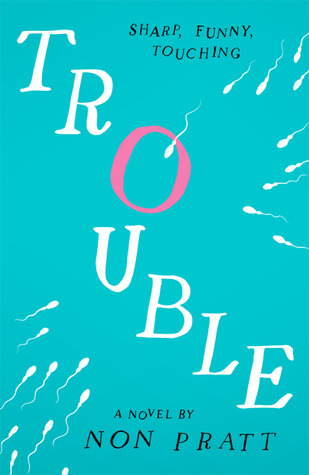 Title: Trouble
Author: Non Pratt
Published: March 6th 2014
Publisher: Walker Books Ltd.
Genre: Young Adult, Contemporary, Romance
Length: 384 pages
I purchased this book from Waterstones.com.
Book Blurb (via Goodreads):
In this dazzling debut novel, a pregnant teen learns the meaning of friendship—from the boy who pretends to be her baby's father.

When the entire high school finds out that Hannah Shepard is pregnant via her ex-best friend, she has a full-on meltdown in her backyard. The one witness (besides the rest of the world): Aaron Tyler, a transfer student and the only boy who doesn't seem to want to get into Hannah's pants. Confused and scared, Hannah needs someone to be on her side. Wishing to make up for his own past mistakes, Aaron does the unthinkable and offers to pretend to be the father of Hannah's unborn baby. Even more unbelievable, Hannah hears herself saying "yes."

Told in alternating perspectives between Hannah and Aaron, Trouble is the story of two teenagers helping each other to move forward in the wake of tragedy and devastating choices. As you read about their year of loss, regret, and hope, you'll remember your first, real best friend—and how they were like a first love.
My Thoughts
When Hannah discovers that she's pregnant, her world seems to crash around her. People at her school start spreading more rumours about her promiscuousness and take bets on who the father could be. But she knows exactly who the father is, and this scares her even more. When the new boy at school, Aaron, offers to pretend to be the father of her baby, she's surprised to say the least. But he has his own reasons for stepping up.
I loved this story. I flew through it and finished with a smile. Hannah and Aaron are adorable with their friendship and the blossoming of their trust is beautiful. I think that Arron is really brave to take on the responsibility of the fatherhood of the baby, even if it is just to pretend and help Hannah out. I also think that it was great that he outright told his parents that this is what he was going to do – he didn't actually pretend to be the real father to them.
The twist at the end was not entirely unexpected for me – I had made an educated guess about what was going on and who the real father was. It was still a bit of a surprise that this was where the storyline headed though. I felt really bad for Hannah because of it.
Heart-warming and funny, Trouble shows that friendship can bloom in the unlikeliest of circumstances. A perfect summer read.
This book is available at the following links:
Non-Affiliate: Amazon UK | Amazon US
Affiliate: Book Depository
---
About the Author
Non Pratt's real name is Leonie, but please don't call her that unless she's done something really bad. She grew up in Teesside and now lives in London. She wrote her first book aged fourteen. After graduating from Cambridge University, Non decided to work in children's publishing. Unfortunately, she went to her first job interview with her top on inside out. Fortunately, they hired her anyway. Since then she has worked as a non-fiction editor at Usborne and fiction publisher at Catnip. She now writers full-time, and Trouble is her debut novel.
Find out more about Non at her Twitter.