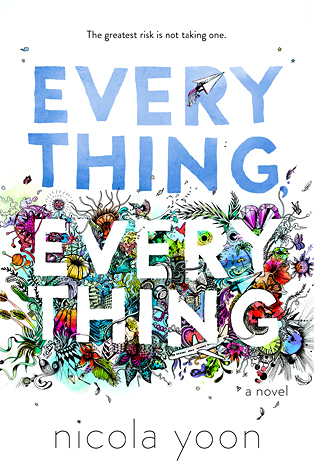 Title: Everything, Everything
Author: Nicola Yoon
Published: September 1st 2015
Publisher: Delacorte Books for Young Readers
Genre: Young Adult, Contemporary, Romance
Length: 320 pages
I received a copy of this book through NetGalley in exchange for an honest review.
Book Blurb (via Goodreads):
This innovative, heartfelt debut novel tells the story of a girl who's literally allergic to the outside world. When a new family moves in next door, she begins a complicated romance that challenges everything she's ever known. The narrative unfolds via vignettes, diary entries, texts, charts, lists, illustrations, and more.

My disease is as rare as it is famous. Basically, I'm allergic to the world. I don't leave my house, have not left my house in seventeen years. The only people I ever see are my mom and my nurse, Carla.

But then one day, a moving truck arrives next door. I look out my window, and I see him. He's tall, lean and wearing all black—black T-shirt, black jeans, black sneakers, and a black knit cap that covers his hair completely. He catches me looking and stares at me. I stare right back. His name is Olly.

Maybe we can't predict the future, but we can predict some things. For example, I am certainly going to fall in love with Olly. It's almost certainly going to be a disaster.
My Thoughts
I wasn't entirely sure what to expect when I picked up this book. I knew that it was about a girl who was so sick she had to be kept inside the bubble that is her bedroom, and I knew that she fell for the boy next door, but I wasn't exactly sure what would happen between them – how it would work, or not, and what the consequences would be – so when I started this book, I was excited to see how it would turn out. I was not disappointed.
Maddy has to stay indoors, she has SCID – a genetic disease that means she's allergic to everything and could die if she goes outside. Not that she would want to. She's quite happy to live inside the safety of her room with her online classes and her books. That is, until their new neighbours arrive and she sees him for the first time. Olly is dark and mysterious and his bedroom window is directly opposite Maddy's. They strike up a friendship and inevitably fall in love, causing Maddy to make some difficult decisions with her life.
The thing about this book is that it surprised me, which doesn't happen very often for me. I liked the relationship between Maddy and Olly, they were adorable together and I really felt for them when her disease was keeping them apart. I wanted them to have the same happily ever after that all the YA couples get. Even though Maddy has to be kept inside, she doesn't seem to be unhappy. She has a great relationship with her mum and also with her nurse. Something did nag at me after a while though, specifically after Maddy's first life-threatening sprint into the big bad world.
The slow reveal was great, I felt like I was learning new things along with Maddy and it helped me to connect with her more. I could feel her anger and resentment and I felt it was totally justified, but when she had her near-death experience, I thought I had guessed wrong. I actually thought that this was going to be one of those books where the character dies at the end and it would be bittersweet, thankfully this wasn't like that.
The real twist wasn't entirely unexpected – it was to begin with, but I guessed it after a while – and I had some mixed feelings about it. I did love the reveal, but I felt that perhaps it was a little predictable given the situation. Don't get me wrong, it was well written and worked brilliantly, and I'm glad that it was the way things turned out – in a way.
Overall, I really enjoyed this one. It was really hyped up by everyone in the blogosphere and I'm glad I got the chance to read it. Definitely worth picking up.
This book is available at the following links:
Non-Affiliate: Amazon UK | Amazon US
Affiliate: BookDepository
---
About the Author
Nicola Yoon grew up in Jamaica (the island) and Brooklyn (part of Long Island). She currently resides in Los Angeles, CA with her husband and daughter, both of whom she loves beyond all reason. Everything, Everything is her first novel.
Find out more about Nicola at the following links: Website | Twitter