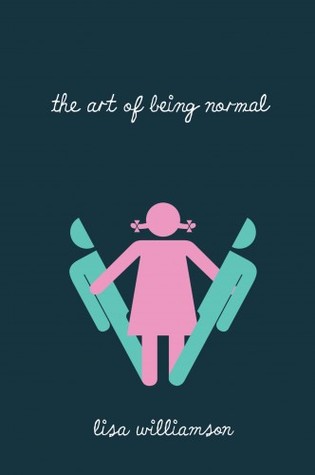 Title: The Art of Being Normal
Author: Lisa Williamson
Published: January 1st 2015
Publisher: David Fickling Books
Genre: Young Adult, LGBT, Contemporary
Length: 368 pages
I purchased a copy of this book from Waterstones.
Book Blurb (via Goodreads):
Two boys. Two secrets.

David Piper has always been an outsider. His parents think he's gay. The school bully thinks he's a freak. Only his two best friends know the real truth – David wants to be a girl.

On the first day at his new school Leo Denton has one goal – to be invisible. Attracting the attention of the most beautiful girl in year eleven is definitely not part of that plan.

When Leo stands up for David in a fight, an unlikely friendship forms. But things are about to get messy. Because at Eden Park School secrets have a funny habit of not staying secret for long…
My Thoughts
A very much hyped book from earlier this year, I was really excited to jump into this story and see what all the fuss was about. I've never read a book about trans people before and I thought that this handled the struggles of a trans teen quite well.
David Piper has always been different. His life has been difficult ever since a class assignment where he announced that all he wanted to be when he grew up was a girl. Now in high school, the only people who know his secret are his two closest friends. When a new boy shows up at school, David tries to befriend him with little success until an horrific bullying episode that almost sees David's secret exposed to the whole school. Slowly, Leo Denton lets David befriend him.
Leo has a secret too, one that he would prefer stayed buried. When he becomes involved with one of the most popular girls in the year, and he reveals his secret to her, his secret is revealed and everything starts to go wrong. David stands by his side through it all, understanding exactly how he feels.
I don't want to go into the plot too much as I don't want to spoil it, but this whole story had a feel-good factor to it at the end. Even though both David and Leo experience horrific abuse simply for trying to live as they feel they should, their intertwined lives turn out to be a blessing as they have each other to lean against for support. For someone like myself, it's an interesting insight into the struggles a transgender person has to suffer through in order to live the life they want.
Told through alternating perspectives with David and Leo, we get a glimpse into the family life of both teens and their personal struggles to feel accepted for who they are. Throwing not only the gender issues, but also family relationships, friendships and love into the mix, The Art of Being Normal tactfully explores what it means to be normal in today's society. An important read for everyone.
This book is available at the following links:
Non-Affiliate: Amazon UK | Amazon US
Affiliate: BookDepository
---
About the Author
Lisa was born in Nottingham in 1980. She spent most of her childhood drawing, daydreaming and making up stories in her head (but never getting round to writing them down). As a teenager she was bitten by the acting bug and at 19 moved to London to study drama at university.
Following graduation, Lisa adopted the stage name of Lisa Cassidy and spent several happy and chaotic years occasionally getting paid to pretend to be other people. Between acting roles she worked as an office temp and started making up stories all over again, only this time she had a go at writing them down.
Lisa lives near Hampstead Heath with her boyfriend Matt, where she is lucky enough to split her time between writing and acting. In her spare time she reads a lot of books, continues to daydream and eats way too much ice cream.
Find out more about Lisa at her website.