I've had a bit of a mixed bag today in terms of my mood. It started off horrible, got worse, then slightly better, then a little worse again. Luckily, I did get some reading done in between all my mood swings.

---
Today I…
One thing to know about me, I am not a morning person – except for when it came to YALC, then I was quite happy to be up and out of the hotel by 8am. I woke up this morning around 8ish and I believe I'm coming down with a cold of some kind because when I woke up, I felt kind of dizzy and headachey and my sore throat from yesterday was still there and I've been sneezing and coughing… so, not the best start to the day.
Being up super early (for me) at least meant that I could squeeze in some extra reading time, which is always a bonus. I couldn't resist picking up the ARC copy I got from The O'Brien Press and reading it since I'd started it last night and wanted to see where it was going. Being less than 200 pages meant I flew through it pretty quickly.
I had an email this morning that kind of put a dampener on my mood, but I took it on the chin and headed out to work – where I promptly got soaked head to toe by the rain and the flooded path that I had to walk through to get to work. Not a great start to my shift!
Work was pretty uneventful – unless you count the gent's toilet upstairs getting blocked and leaking through the ceiling to the shop floor. It stank! After suffering through four hours of that, I was glad to get home and back to my books.
I spent the rest of the evening reading for the readathon, colouring in my Colour Me Mindful picture, see below:
And I also read and posted some comments on my SCBWI critique groups' stories. Overall, it started off rocky, but ended pretty productively.
---
What I've Read Today
I couldn't resist picking this one up before I went to bed last night. It was just sitting on the top of my book haul pile for this month, begging me to read it! The premise from the press release really intrigued me about this one – I probably shouldn't have read that until after the readathon! – so I had to pick it up.
Pages: 181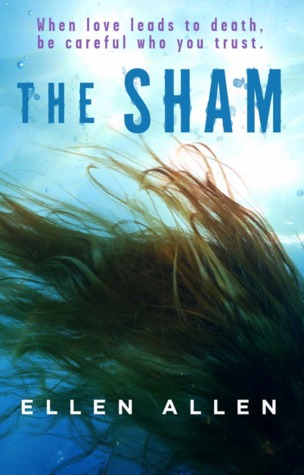 So I didn't quite finish this one last night because I read The Butterfly Shell instead, but I finished it today! I quite enjoyed this one – although the bullying scene at the beginning disturbed me greatly, it didn't put me off the book entirely, which I'm thankful for. I will admit that it wasn't my cup of tea overall, and I only gave it 3 stars because I just felt like it lacked something to make me give it more. It was quite gruesome in parts and way more graphic than I had expected or was prepared for.
Pages: 124
My next read tonight will be to start Hysteria – my book for the Sequel challenge. I'm really excited to jump back into this world and see what happens next for the characters.
---
Stats
Books Read: My Neighbor Totoro, Dystopia, The Butterfly Shell, The Sham
Currently Reading: Hysteria
Total Pages: 939