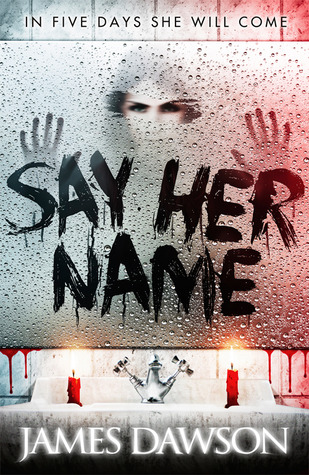 Title: Say Her Name
Author: James Dawson
Published: June 5th 2014
Publisher: Hot Key Books
Genre: Young Adult, Horror
Length: 287 pages
I purchased a copy of this book.
Book Blurb (via Goodreads):
Roberta 'Bobbie' Rowe is not the kind of person who believes in ghosts. A Halloween dare at her ridiculously spooky boarding school is no big deal, especially when her best friend Naya and cute local boy Caine agree to join in too. They are ordered to summon the legendary ghost of 'Bloody Mary': say her name five times in front of a candlelit mirror, and she shall appear… But, surprise surprise, nothing happens. Or does it?

Next morning, Bobbie finds a message on her bathroom mirror… five days… but what does it mean? And who left it there? Things get increasingly weird and more terrifying for Bobbie and Naya, until it becomes all too clear that Bloody Mary was indeed called from the afterlife that night, and she is definitely not a friendly ghost. Bobbie, Naya and Caine are now in a race against time before their five days are up and Mary comes for them, as she has come for countless others before… A truly spine-chilling yet witty horror from shortlisted 'Queen of Teen' author James Dawson.
My Thoughts
A re-telling of the Bloody Mary legend, James Dawson take a familiar tale and adds his own spin to it. A creepy, yet humorous at times, story that you can't put down. I powered through this book, I couldn't put it down – even though I finished it around eleven at night and then had to sleep with the light on and not look in any mirrors… I'm a grown up, I swear!
Halloween night, Bobbie and her friend Naya are dared to chant Bloody Mary's name in front of a mirror five times, along with a local boy, by the most popular girl in the school. Feeling like they have nothing to lose, they do it – especially when Sadie tells them that she did herself three days ago and she's still there to tell the tale. But then Sadie goes missing and Bobbie starts to have strange dreams about a girl called Mary…
With the sinister message 'Five Days' appearing in the mirror in the girl's bathroom, Bobbie feels that time is running out and the mysterious ghost of Mary is trying to tell her something. Frantically trying to piece together the clues that could save her from Mary's spirit, Bobbie has to deal with ever more terrifying symptoms of Mary's haunting.
Dark secrets surface to the fore in their hunt for the truth, and what they find isn't anything that they expected. With a shocking twist at the end, can the legend really be truly over?
I love creepy stories, ones that I need to stay up reading but always end up feeling too scared to sleep once I've finished. Dawson has done a great job of breathing new, terrifying life into the old urban legend. For my first foray into Dawson's work, it's definitely made a good impression and I'll be hunting out his other stories.
Creepy and atmospheric but with enough humour sprinkled throughout to make it just shy of completely terrifying, Say Her Name is a fresh take on an old legend, expertly executed.
This book is available at the following links:
Non-Affiliate: Amazon UK | Amazon US
Affiliate: BookDepository
---
About the Author
Raised in West Yorkshire, James eventually moved to Brighton where he wrote for local papers and magazines whilst working as a primary school teacher.
In 2011, James left teaching to write full-time and now lives in London.
Hollow Pike is his first novel for young adults.
You can find out more about James at the following links: Website | Twitter