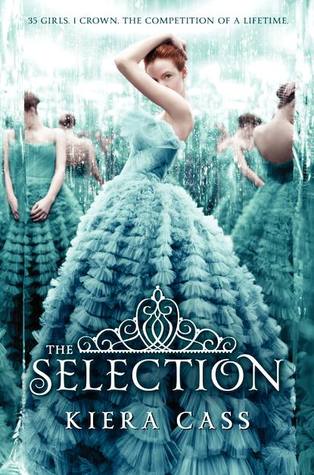 Title: The Selection
Author: Keira Cass
Published: April 24th 2012
Publisher: HarperTeen
Genre: Young Adult, Romance, Dystopian
Length: 336 pages
I received a copy of this book through NetGalley in exchange for an honest review.
Book Blurb (via Goodreads):
For thirty-five girls, the Selection is the chance of a lifetime. The opportunity to escape the life laid out for them since birth. To be swept up in a world of glittering gowns and priceless jewels. To live in a palace and compete for the heart of gorgeous Prince Maxon.

But for America Singer, being Selected is a nightmare. It means turning her back on her secret love with Aspen, who is a caste below her. Leaving her home to enter a fierce competition for a crown she doesn't want. Living in a palace that is constantly threatened by violent rebel attacks.

Then America meets Prince Maxon. Gradually, she starts to question all the plans she's made for herself—and realizes that the life she's always dreamed of may not compare to a future she never imagined.
My Thoughts
I feel like I'm one of the last people on the planet to read this series but this is definitely a case of better late than never because this book was a great start to the series. I was worried that I wouldn't enjoy this book because of how much everyone seems to love it, but I wasn't disappointed and I actually really enjoyed it.
America doesn't want to be part of The Selection – the process where any eligible woman from the country has a chance to eventually become the new bride for the prince – she just wants to marry the boy she loves and live her life. Unfortunately, the boy she loves is a tier below her in the country's hierarchy and that's just not the done thing.
With her mother pressuring her and Aspen encouraging her to better herself, America gives in and applies. Never did she think she would actually be chosen. Yet she soon finds herself at the palace with thirty-four other girls and the competition for Prince Maxon's affections begins.
I wasn't expecting to like this story when I went into it. I'm not a fan of the reality TV shows that do this kind of thing – The Bachelor/ette type shows – but I was really surprised at how quickly this book gripped me. It wasn't slow, and it held my interest.
America is a great character. She's sassy and knows what she wants. I like that she doesn't change who she is around the prince and that they bond really naturally. I'll admit, I was really rooting for them after their first embarrassing interaction.
Of course, living in the castle has its drawbacks. Mainly, being attacked by rebel forces. As the girls slowly whittled down and America and Maxon's relationship grew, I found myself really wanting to know what happened next and hoping that America would finally see sense (you know what I'm talking about!).
Sadly, the ending left me angry. Despite raging at America for her stupid decisions, I'm intrigued to see where things go in the next book. The fact that I was that angry over a character's decision let me know that I have fallen hard for this series. I don't often get so emotionally attached to characters and their relationships.
A great dystopian reality TV show-esque story that captures the heart of the reader.
Buy Links:
Non-Affiliate: Amazon UK | Amazon US | Barnes & Noble | The Book People | Waterstones
Affiliate: Book Depository
---
About the Author
I am a graduate of Radford University with a B.S. in History. I grew up in South Carolina and currently live in Christiansburg, Virginia with my electrical engineer hubby, car-obsessed son, and princess-loving daughter. I'm a #1 New York Times bestseller, woohoo! I'm also a valued customer at my local cupcake shop.
Things I hate:
When people fail to use turn signals, flying, salads.
Things I love:
Office supplies, boy bands, desserts.