Hey guys! It's been a while since I participated in a readathon… or has it? I've been crazy busy lately and the months are starting to blur together. Anyways! After seeing a couple videos on YouTube of people doing their TBRs for Dewey's 24 Hour Readathon, I decided to check it out and sign up myself!
The readathon begins today! In my time zone it starts at 1pm, so I'll be reading through to 1pm tomorrow (although there's no way I'll be able to stay awake for the whole 24 hours!). I made a TBR video the other day and put it up on YouTube, you can see it below. If you want to join in too, it's not too late! The website is here.

I'm not being overly ambitious – I don't think – with this TBR. In fact, I already finished Fangirl, so it's no longer on my TBR. Below is the books that are still on my TBR and how far into them I am before starting at 1pm.
---

Goodreads Page
I've had this book for way too long now. I think this was one of the first books I was approved for on NetGalley and then I borrowed it from my local library at the end of August. It's not that there's been anything wrong with the book – it just didn't hook me right away so I abandoned it for other ones instead. Now I'm determined to sit down and finish this one and finally see what's going on!
Current Progress: 71/394

Goodreads Page
I borrowed this one from my library a little while ago because I didn't entirely love the first book in this series so didn't want to go out and buy it if I wasn't going to be continuing the series after this book. I'm not really sure how much I'm enjoying this one – whether my impression of the first one has made me kind of write this one off already or not – but I'm hoping to get through this one during the readathon and then make my final decision on this series.
Current Progress: 54/411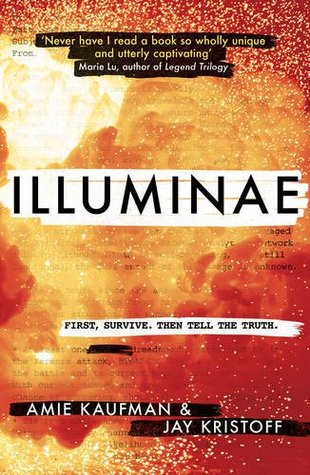 Goodreads Page
Finally, we have Illuminae! I was so happy when I got my pre-order through from Waterstones super early. I started reading this one last night because I wanted to get to where the sample from Buzz Books had stopped. Then I kind of kept on reading for a bit. This book is such a different format to what I'm used to, but I'm really enjoying it so far.
Current Progress: 101/599
---
So, there's my TBR. Across the three books, I want to read 1,178 pages. I wonder if I can do it…