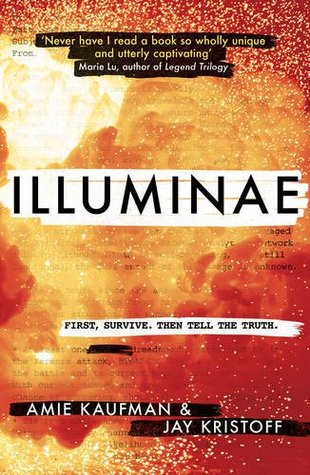 Title: Illuminae
Author: Amie Kaufman & Jay Kristoff
Published: October 20th 2015
Publisher: Oneworld Publications
Genre: Young Adult, Sci Fi, Dystopian, Romance
Length: 599 pages
I pre-ordered this book from Waterstones.
Book Blurb (via Goodreads):
This morning, Kady thought breaking up with Ezra was the hardest thing she'd have to do.

This afternoon, her planet was invaded.

The year is 2575, and two rival megacorporations are at war over a planet that's little more than an ice-covered speck at the edge of the universe. Too bad nobody thought to warn the people living on it. With enemy fire raining down on them, Kady and Ezra—who are barely even talking to each other—are forced to fight their way onto an evacuating fleet, with an enemy warship in hot pursuit.

But their problems are just getting started. A deadly plague has broken out and is mutating, with terrifying results; the fleet's AI, which should be protecting them, may actually be their enemy; and nobody in charge will say what's really going on. As Kady hacks into a tangled web of data to find the truth, it's clear only one person can help her bring it all to light: the ex-boyfriend she swore she'd never speak to again.

Told through a fascinating dossier of hacked documents—including emails, schematics, military files, IMs, medical reports, interviews, and more—Illuminae is the first book in a heart-stopping, high-octane trilogy about lives interrupted, the price of truth, and the courage of everyday heroes.
My Thoughts
This book is perhaps one of my most anticipated reads for 2015. I was super excited about it from the first moment I heard about it and was insanely jealous of every book blogger/vlogger that received one of the gorgeous hardcover ARCs. It wasn't so much the plot of the story that interested me, but the format of the story: data files, personal blog posts, IMs, etc. The book is a bit on the big side, but the information held within was amazing.
Kady and Ezra are just two normal teens on an illegal mining colony called Kerenza who just so happened to break up on the morning their planet was attacked by missiles and a potentially deadly, mysterious black cloud released by an enemy company. There isn't a set narrative to the story, it's more of a dossier of files collected that piece together to show the story. Kady and Ezra were split up when they were rescued from Kerenza – Kady was placed on the scientific ship Hypatia, whereas Ezra was placed on the battleship Alexander where most of the wounded were being sent.
What follows after is interview logs, accounts of surveillance footage, chat logs, and so much more as we follow Kady and Ezra while they try to work out exactly what the captain of Alexander is hiding from them. What they uncover is so much worse than anything they could have possibly thought and that's just the beginning of their problems.
I loved this book. I devoured it in a single day because it was just too good to put down. I really enjoyed the different format when reading. I felt like I was an investigator trying to work out exactly what had happened. The IM chat logs and personal emails really brought out the individual character personalities and it was so easy to get behind certain people, while despising others.
The mysteries had me completely hooked. I'm still not entirely sure what was going on with one of them – I'm super excited that this is the beginning of a trilogy (I believe) as I can already tell there is so much more left to explore.
I had thought that the teen romance side-plot would frustrate me and take away from the space war and other plots, but it didn't. It was actually incredibly sweet and I absolutely adore both Kady and Ezra and was really rooting for them throughout.
The twists at the end were amazing. They came completely out of nowhere and blew me away. Seeing how this ended, just the entire thing was so cleverly done. I am in awe. I had no idea you could tell such an intricate and complicated story through this kind of format and I'm really eager to see the next instalments to find out what happens next.
One that was definitely worth waiting for. I've already got my boyfriend reading this and I highly recommend it to everyone else!
Buy Links:
Non-Affiliate: Amazon UK | Amazon US | Barnes & Noble | Waterstones
Affiliate: Book Depository
---
About the Authors
Amie Kaufman is the New York Times bestselling co-author of These Broken Stars and This Shattered World, and Illuminae, the first in a new series starting in 2015. She writes science fiction and fantasy for teens, and her favourite procrastination techniques involve chocolate, baking, sailing, excellent books and TV, plotting and executing overseas travel, and napping.
She lives in Melbourne, Australia with her husband, their rescue dog, and her considerable library. She is represented by Tracey Adams of Adams Literary.
Jay Kristoff is the award-winning author of THE LOTUS WAR trilogy, a Japanese-inspired steampunk fantasy. Part 3, ENDSINGER, is out now. He's also co-author of the upcoming ILLUMINAE (with Amie Kaufman), a YA Sci-Fi… thing, to be released by Knopf/Random House in 2015, and NEVERNIGHT, the first part of a new fantasy trilogy kicking off in 2016.
Jay is 6'7 and has approximately 13380 days to live. He abides in Melbourne with his secret agent kung-fu assassin wife, and the world's laziest Jack Russell.
He does not believe in happy endings.