Soooo, it's been a while since I've done a non-NaNoWriMo related post and I feel like December is a great time to fix that. I've decided to actually make a TBR for this month and that TBR is going to consist of all the non-NetGalley review books that I still need to read. So without further ado, here's the books I'm going to try and read during the month of December.
---
Don't Eat the Glowing Bananas – David D. Hammons

Goodreads
It's hard to find a decent brunch in the post-apocalyptic wasteland. But that's all Henry Rosetta wants from the world. That, and not to be eaten by nomadic cannibals. Henry has traveled the nuclear bomb-blasted highways critiquing the finest radioactive eateries and cataloging his experiences. All the while, he's been searching for the knowledge of why the bombs fell. It's this hunger for specialty food and forbidden knowledge that brings Henry to the city of New Dallas. There, Henry meets a green-skinned mutant, a katana-wielding assassin, and a horrible dictator who claims to know why the bombs fell. Henry must help the people of New Dallas and learn the great secret of how the world ended. And maybe get a taco along the way.
Release Date: December 7th 2015
Publisher: Curiosity Quills Press
---
Double Trouble – Andrew F. Haydock

Goodreads
In culinary terms, this book is a dessert, one of those light, savoury ones that leave you wanting more.
Among the ingredients are the following:
A balding, middle-aged job-seeker who makes a startling discovery.
Two giant pharmaceutical companies competing for the fruits of that discovery, careless of the methods used to gain their ends.
Two young, nubile, identical twins, 'Aunt' and 'Bunt' – ' Good thing the woman didny have triplets.'
A momentous family secret taken to the grave by the last of the male line of the House of Scrimgeour – or was it?
Two rival, and radically different prophet Elijahs, and their warring followers.
And the supremely forgettable Mr. … er.
Also contains cryptic codes, ravening hounds, large sums of money, real guns, exploding rubbish bags, skinheads, and library attendants.
WARNING: MAY CONTAIN TRACES OF NUTS
Release Date: September 30th 2015
Publisher: Austin Macauley Publishers Ltd.
---
Luca, Son of Morning – Tom Anderson
Goodreads and blurb are unavailable for this book.
Release Date: March 2016
Publisher: Accent YA
---
The Sea Singer – Shome Dasgupta
Goodreads and blurb are unavailable for this book.
Release Date: February 2016
Publisher: Accent YA
---
Love at First Flight – Tess Woods

Goodreads
Looking back on it now, I can see it was instant. The second we locked eyes. Boom. Just like that. The me I had spent a lifetime perfecting began its disintegration from that moment. And despite the carnage it brought to all our lives, I still don't regret it.

What would you risk to be with the love of your life? And what if your soul mate is the one who will destroy you?

Mel is living the dream. She's a successful GP, married to a charming anaesthetist and raising a beautiful family in their plush home in Perth. But when she boards a flight to Melbourne, she meets Matt and her picture perfect Stepford life unravels as she falls in love for the first time ever.

What begins as a flirty conversation between strangers quickly develops into a hot and obsessive affair with disastrous consequences neither Mel nor Matt could have ever seen coming. Mel's dream life turns into her worst nightmare.

Love at First Flight will take everything you believe about what true love is and spin it on its head.
Release Date: April 1st 2015
Publisher: HarperCollins Australia
---
Société – Alexander Helas

Goodreads
Christian Matters is a neurotic twenty-nine year old architect living in Chicago, USA. After a bizarre episode throws him off his morning routine, he abandons his promising career, girlfriend and home for a life-changing journey to San Francisco, where he meets a cavalier aristocrat named Lester Rothschild and his beautifully extravagant love, fortepianist Ella Athens. Mysterious and insane, Lester takes Christian on his adventure to open Société, the most luxurious entertainment complex at the heart of the world's richest city. But, with the chance meeting of an unlikely visitor and the sudden death of a lover, colliding events lead Christian to unravel the true ambitions behind the greatly anticipated opening of Société, and discovers the fate of something much greater is at stake.

A powerful work of fiction that will enthrall millennials for years to come, Alexander Helas' debut novel delivers a masterful, thought-provoking vision on the struggle of humanity's bravest art, free will, at the hands of society's quest for progress.
Release Date: June 2nd 2015
Publisher: Voicecollective.press
---
The Goblin Trilogy – Jaq D. Hawkins

Goodreads
For the first time, the complete series in one volume!

In the world of the goblins, there is only one rule…

Dance of the Goblins
Haghuf, respected elder among the unseen goblins, has only scorn for humans. Yet he is drawn into friendship with a human aristocrat by The Dance, the spiritual exaltation of life which is central to the goblins' existence.

Demoniac Dance
A young girl running away from an unwanted marriage finds a new life among the mysterious magicians in the land across the river. What she didn't bargain for is the presence of the goblins who have befriended her benefactors.

Power of the Dance
Khemael is a creature of beauty and grace with a mostly human appearance. His love of stretching his leather-like wings and flying freely in the world of men brings far too much attention to the existence of the goblins. Haghuf knows that the inevitable responsibility will fall to him to destroy Khemael who, in the world of the humans, would be called his grandson.

Worlds of magic and dragons in the realms of goblins and magicians await to be discovered in the complete series, The Goblin Trilogy!
Release Date: August 5th 2014
Publisher: Goblin Publishing
---
From a Distant Star – Karen McQuestion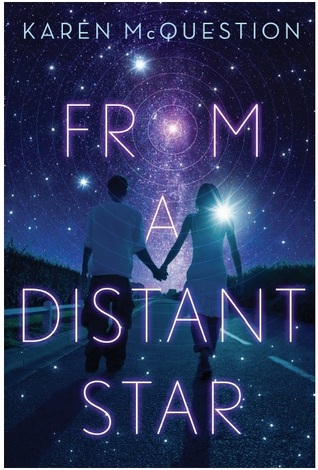 Goodreads
Seventeen-year-old Emma was the only one who hadn't given up on her boyfriend, Lucas. Everyone else—his family, his friends, his doctors—believed that any moment could be his last. So when Lucas miraculously returns from the brink of death, Emma thinks her prayers have been answered.

As the surprised town rejoices, Emma begins to question whether Lucas is the same boy she's always known. When she finds an unidentifiable object on his family's farm—and government agents come to claim it—she begins to suspect that nothing is what it seems. Emma's out-of-this-world discovery may be the key to setting things right, but only if she and Lucas can evade the agents who are after what they have. With all her hopes and dreams on the line, Emma sets out to save the boy she loves. And with a little help from a distant star, she might just have a chance at making those dreams come true.
Release Date: May 19th 2015
Publisher: Skyscape
---
Onyx Webb – Richard Fenton & Andrea Waltz

Goodreads
Best-Selling Authors Fenton & Waltz Welcome You to the World of Onyx Webb. This is Book One. (Episodes 1, 2, and 3)

It's June, 1980 and piano prodigy, Juniper Cole is on the way to her senior prom.

– It's January 2010, and Koda Mulvaney has blown through his 20 million dollar trust fund and is told by his father to return home and get to work.

– It's August, 1904 and little Onyx Webb is on her way to the famous World's Fair in St. Louis with her father, Catfish.

Two of the three will see a ghost, one will become a ghost and everyone will learn that life is hard to let go of even when you're dead. And that's just Book One. Designed to read like a supernatural soap opera, Onyx Webb is a paranormal suspense series, with supernatural romance, as well as a dash of historical fiction. The stories may haunt you, the darkness may disturb you, but ultimately you'll be reminded to treasure every moment of your life because… If you think life is precious now? Just wait until you're dead.
Release Date: March 17th 2015
Publisher: Courage Crafters Inc.
---
Dare to Dream – Carys Jones

Goodreads
"The world was going to end. Of that, Maggie Trafford was certain."

Fourteen-year-old Maggie Trafford leads a normal life. Well, as normal as being crammed in a three-bedroom house with four siblings and a single parent can be, anyway. But despite being somewhat ignored at home, Maggie excels, earning top grades, a best friend who would do anything for her, and stolen looks from a boy in Maths.

It's not until the dreams start that Maggie realizes "normal" is the least of her problems. Every night, she lives the same nightmare—red lightning, shattered glass, destruction. But nightmares are just that, right? No one believes her when she says it's an omen. At least, not until the already mysterious pillars of Stonehenge start falling.

No longer alone in her fear, Maggie and the world watch with bated breath as one after another, the historic stones tumble, like a clock counting down. But only Maggie knows what it means: when the last stone falls, destruction will reign. And when the world ends, there's only one option left—survive.

Horrifying and raw, Dare to Dream is equal parts tragedy and hope, detailing the aftermath of apocalyptic catastrophe, the quest for survival, and the importance of belief.
Release Date: February 14th 2015
Publisher: REUTS Publications, LLC.
---
Orion's Curse – Amy Bartelloni

Goodreads
It's been two months since the blowout with President Vise.

The Valley is rebuilding and elections have been planned, but things are about to change when a new group of refugees arrives seeking the cure. They've brought with them someone Anyon never thought he'd see again, but he's not the only one who's surprised.

While Anyon sorts out the new arrivals, Malachi's loyalty will be tested when Dax and Raven, old friends from his time on the streets, show up baring secrets he's tried hard to keep hidden. He's never shared that part of his past with anyone, and finds himself going along with Dax to prevent anyone, especially Sera, from learning what they did on the streets to survive.

But how far will he go to keep his past hidden?

Things take a turn for the worse when Dax and Raven pit Malachi against his friends. Will Sera's love be enough to prevent him from sliding back into his dark past, a past that's more brutal than even she can imagine?
Release Date: November 11th 2014
Publisher: Limitless Publishing
---
Last Bastards Standing – Sienna Cassidy

Goodreads
Sal Bruce is a bastard. Tell her and she'll say Thank you. She might hand out a couple of insults, too. When Sal is not drinking, she is sleeping, and when she is not grousing loudly, she is judging silently.

No woman is an island, however, and Sal does occasionally find herself in the company of mad friends living on the edge of society and sanity. Life has kicked them in the face, but they keep going, and have great stories to tell.

What prevents Sal from the distance to the world she usually thinks rightfully hers, is her best friend Ernesto and his relentless plan to reveal the truth (about the government and in general) to the world. Sal and Ernesto have been friends since the time Sal helped Ernesto get out of the loony bin, and ever since then he has been constantly making Sal wonder whether insane is necessarily the least sane thing to be.

Last Bastards Standing is women's fiction without mush and melodrama. It hits where it hurts, but also where laughter and the sweet joy of (some extent of) recognition is felt.
Release Date: August 9th 2015
---
What books are you planning to read during the month of December? 🙂