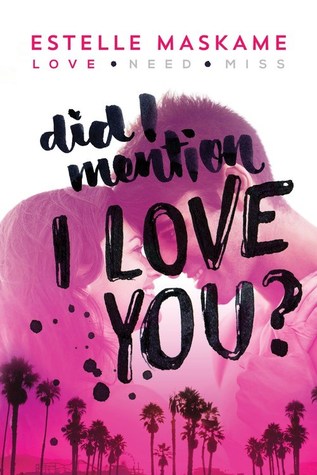 Title: Did I Mention I Love You?
Author: Estelle Maskame
Published: December 1st 2015
Publisher: Sourcebooks Fire
Genre: Young Adult, Contemporary, Romance
Length: 448 pages
Source: NetGalley eARC
Book Blurb (via Goodreads):
When sixteen-year-old Eden Munro agrees to spend the summer with her estranged father in the beachfront city of Santa Monica, California, she has no idea what she's letting herself in for. Eden's parents are divorced and have gone their separate ways, and now her father has a brand new family. For Eden, this means she's about to meet three new step-brothers. The eldest of the three is Tyler Bruce, a troubled teenager with a short temper and a huge ego. Complete polar opposites, Eden quickly finds herself thrust into a world full of new experiences as Tyler's group of friends take her under their wing. But the one thing she just can't understand is Tyler, and the more she presses to figure out the truth about him, the more she finds herself falling for the one person she shouldn't – her step-brother.

Throw in Tyler's clingy girlfriend and a guy who has his eyes set on Eden, and there's secrets, lies and a whole lot of drama. But how can Eden keep her feelings under control? And can she ever work out the truth about Tyler?

Did I Mention I Love You is the first book in the phenomenal DIMILY trilogy, following the lives of Eden Munro and Tyler Bruce as they try to find their way in an increasingly confusing world.
My Thoughts
Perhaps one of the most popular series that came from internet success, Did I Mention I Love You? was a huge hit with fans before it was even picked up by a traditional publisher. As a young author, Maskame has achieved the ultimate goal of any young writer and I was excited to pick up this book and see what it was all about. I followed Maskame on Twitter for several months before finally picking up her book and all the tweets about her series got me genuinely interested in it.
Eden hasn't seen her dad for several years after he walked out on her and her mom. When he invited her to spend the summer with him and his new family, she was hesitant at first but things weren't looking great for her in Portland and she needed the escape. Her new stepmom seems nice, the younger of her two stepbrothers aren't too bad, her dad is awkward and barely trying, but the biggest thing that Eden has to adjust to in her new home is the oldest stepbrother, Tyler. From the moment she met him, she had him pegged as a self-centred jerk who just wanted to seem cool and make life difficult for everyone around him. But as the summer progresses, she finds out there's more to things than first meets the eye.
I vaguely knew what the plot of this was about before picking it up and I was a little hesitant because of it, but I'm glad that I read it. Eden was a great character to follow, even if I did find her a little irritating at times – especially nearer the end of the book. The group of friends that she finds herself in when she moves was eclectic and reminded me a lot of the typical personalities that you find within the average group of teens. Her relationship with Tyler is obviously the main focus of the book and this was where I was a little worried before picking it up.
I'll admit, I am not a fan of them. There, I said it. I feel like I may be in a very small minority of people who think this. I found Tyler to be a really self-destructive character and generally didn't like him. Yes, he had some terrible secrets that would explain why he was the way he was, but I couldn't see why he had taken things to such an extreme. He had choices and he always made the wrong one.
Eden ended up being quite similar too. She had a very firm view of how things were when the book started and by the end she was throwing her views out the window and then constantly questioning her choice. If things felt so wrong, why continue? It irked me.
Having said that, I was glued to this book and devoured it. I loved how it ended and was really happy with how things turned out. I have a feeling as I read more into the series, I'm going to be disappointed but hopefully I'll be surprised in a new way.
I definitely think that this series has great potential and I'm looking forward to continuing it – I've already got Did I Mention I Need You? sitting on my kindle! For such a young author, this book read beautifully and didn't seem to be the writing of a sixteen year old. A great summer read to lose yourself in.
Buy Links!
Non-Affiliate
Amazon UK | Amazon US | Barnes & Noble | Book People | Waterstones
Affiliate
Book Depository | Foyles
---
About the Author
Estelle Maskame is a novelist from Peterhead in Scotland. After gaining universal acclaim online during her teenage years, she signed a print contract with the Edinburgh-based publisher Black & White Publishing at the age of seventeen. She left school and now writes full-time from the comfort of her bed. Did I Mention I Love You? is her first novel.