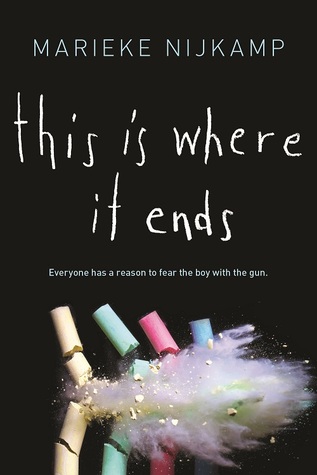 Title: This Is Where It Ends
Author: Marieke Nijkamp
Published: January 5th 2016
Publisher: Sourcebooks Fire
Genre: Young Adult, Contemporary
Length: 292 pages
Source: eARC from NetGalley
Book Blurb (via Goodreads):
10:00 a.m.
The principal of Opportunity, Alabama's high school finishes her speech, welcoming the entire student body to a new semester and encouraging them to excel and achieve.

10:02 a.m.
The students get up to leave the auditorium for their next class.

10:03
The auditorium doors won't open.

10:05
Someone starts shooting.

Told over the span of 54 harrowing minutes from four different perspectives, terror reigns as one student's calculated revenge turns into the ultimate game of survival.
My Thoughts
There was – and still is – a lot of hype surrounding this book when I first heard about it and it intrigued me enough to pick this one up and see what it was all about. I've not really read a lot of books about school shootings or any kind of mass shooting. I found it to be quite an apt topic.
Set across the span of less than a day, we follow a group of teens as they live through the harrowing situation of being locked in their school with a boy with a gun and a grudge. Seeing the events that led up to the breaking point was really intriguing and the situation was made so much worse by the fact that no one saw it coming. They knew the boy was troubled, but they hadn't expected him to do anything like this.
The relationships between the main characters was really interesting, especially considering one of the victims locked inside the school was related to the shooter. Nijkamp has a natural flair for creating characters with a lot of depth and a especially a villain that is pure evil – his motives for committing the crime, in my opinion, were not nearly strong enough to justify his reasons for actually following it through.
Interspersed throughout the story were tweets and texts that gave it more of a real feeling, linking it with the modern era and what real reactions would perhaps be like to a situation like this.
I found the fact that this story takes place over such a short period of time made it that much more tense. A gripping read, from the moment the students discover the doors are locked, you can't put the book down.
There's a fantastic diversity to the characters and it wasn't even necessary to keep mentioning. I also really loved the friendships that we were introduced to and also the ones that blossomed in such a short amount of time. It was this that honestly made me cry the most while reading – just wondering, hoping, that these people I was connecting with so much would be okay.
This book is not for the feint of heart. It will make you cry, for sure. Touching and heart-breaking, this is a relevant story for our society today. An excellent debut to kick off 2016.
Buy Links!
Non-Affiliate
Amazon UK | Amazon US | Barnes & Noble
Affiliate
Book Depository
---
About the Author
Marieke Nijkamp a storyteller, dreamer, globe-trotter, and diversity advocate. She holds degrees in philosophy, history, and medieval studies.
Her debut YA novel THIS IS WHERE IT ENDS will be out from Sourcebooks Fire in 2016.