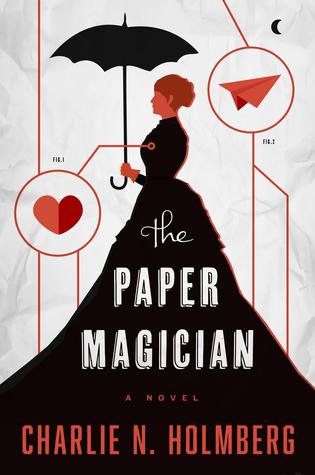 Title: The Paper Magician
Author: Charlie N. Holmberg
Published: September 1st 2014
Publisher: 47North
Genre: Young Adult, Fantasty, Historical Fiction
Length: 224 pages
Source: ebook from Amazon
Book Blurb (via Goodreads):
Ceony Twill arrives at the cottage of Magician Emery Thane with a broken heart. Having graduated at the top of her class from the Tagis Praff School for the Magically Inclined, Ceony is assigned an apprenticeship in paper magic despite her dreams of bespelling metal. And once she's bonded to paper, that will be her only magic… forever.

Yet the spells Ceony learns under the strange yet kind Thane turn out to be more marvelous than she could have ever imagined — animating paper creatures, bringing stories to life via ghostly images, even reading fortunes. But as she discovers these wonders, Ceony also learns of the extraordinary dangers of forbidden magic.

An Excisioner — a practitioner of dark, flesh magic — invades the cottage and rips Thane's heart from his chest. To save her teacher's life, Ceony must face the evil magician and embark on an unbelievable adventure that will take her into the chambers of Thane's still-beating heart—and reveal the very soul of the man.
My Thoughts
For a long time, I saw an advert for this series on Twitter. For the life of me I can't think who it was that was posting it – it wasn't the author because I didn't follow her at the time – but I had seen it enough times that it intrigued me and I eventually purchased the entire trilogy on Boxing Day because of the sale. I knew literally nothing about this book, or the series as a whole, other than the small amount of information that had been in that Twitter ad.
Ceony Twill is a magician's apprentice. After fast-tracking her studies, she had hoped to graduate and become a Smelter. Unfortunately, due to a lack of paper magicians, she was allocated the spot of Folder instead. Unhappy with her situation, Ceony begrudgingly settled into her new home with her eccentric tutor Magician Thane.
The dynamic between Thane and Ceony, from the very beginning, was brilliant. I loved her stubbornness and her hot-headed tendencies and his sarcastic and jesting remarks. They played off each other wonderfully and had fantastic chemistry. The fact that Ceony's teacher escort, Magician Aviosky, was so very prim and proper against their playful jesting made it more amusing when they interacted.
As Ceony settled into her role as Folder apprentice, I could understand why she was so hesitant about paper as a material to bond with, but I could also see the potential that she perhaps missed to start with. The beauty within Folding was brimming with possibilities. Of course, just as Ceony begins to realise this, things take a turn for the worst.
When she sees accidentally sees a mysterious telegram that causes Thane to disappear for several days, she can't stop thinking about it and when Thane doesn't tell her anything upon his return, she only becomes more curious about what exactly is going on.
She doesn't have to wait long to find out. When Thane is attacked and ends up on the brink of death, Ceony believes that she is the only one who is willing to help him instead of just sitting to wait it out. Taking a risk beyond her skill as a magician, Ceony goes all out to save the mentor that she's come to admire.
I was gripped to this story very early on and I couldn't put it down when I got into the meat of the action. I was actually reading this story in the lead up to the new year (I fell asleep at half 11 on December 31st with my kindle in my hand).
Holmberg weaves an exciting adventure that is filled with beautiful magic and unexpected turns. I'm very much looking forward to the other books in this series and I feel I'll be picking them up soon as I have to know what happens next. The ending was wrapped up nicely, but there was that one big question mark left hanging and I need to know what happens.
I highly recommend this book to lovers of historical fiction and magical tales.
Buy Links!
Non-Affiliate
Amazon UK | Amazon US | Barnes & Noble | Waterstones
Affiliate
Book Depository
---
About the Author
Charlie Nicholes Holmberg was born in Salt Lake City, Utah to two parents who sacrificed a great deal to give their very lazy daughter a good education. As a result, Charlie learned to hate uniforms, memorized all English prepositions in alphabetical order, and mastered the art of Reed-Kellogg diagramming a sentence at age seven. She entered several writing contests in her elementary years and never placed.
Being a nerd, Charlie started writing fan-fiction as a teenager in between episodes of Star Trek: The Next Generation. She became a full-fledged band geek with mediocre talent in high school, where she met her husband. While she strove to win his attention by baking him cookies and throwing ramen noodles at his house, he didn't actually ask her out until six years later.
Charlie began taking writing seriously during her undergrad at Brigham Young University, where she majored in English and minored in editing. She finally won a few writing contests. She graduated with her BA in 2010 and got hitched three months later. Shortly afterwards, her darling husband dragged her to Moscow, Idaho, where he subsequently impregnated her.

In summer 2013, after collecting many rejection letters and making a quilt out of them, Charlie sold her ninth novel, The Paper Magician, and its sequel to 47North with the help of her wonderful agent, Marlene Stringer. She currently lives with her family in Utah. Someday she will own a dog.
(Did she mention her third book, The Master Magician, totally made the WSJ bestseller list? Because it totally made the WSJ bestseller list.)
*Picture and biography taken from Charlie's Website.