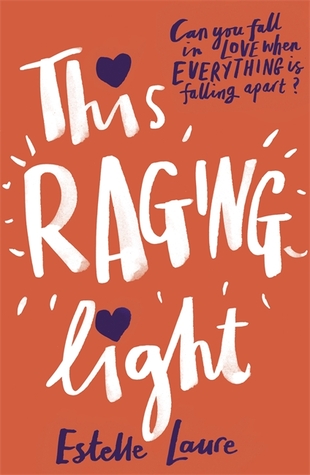 Title: This Raging Light
Author: Estelle Laure
Published: January 14th 2016
Publisher: Orchard Books
Genre: Young Adult, Contemporary, Romance
Length: 320 pages
Source: NetGalley eARC
Book Blurb (via Goodreads):
How is it that you suddenly notice a person? How is it that one day Digby was my best friend's admittedly cute twin brother, and then the next he stole air, gave jitters, twisted my insides up?

Lucille has bigger problems than falling for her best friend's unavailable brother. Her mom has gone, leaving her to look after her sister, Wren. With bills mounting up and appearances to keep, Lucille is raging against her life but holding it together – just.

A stunning debut to devour in one sitting, Laure captures completely the agony and ecstasy of first love.
My Thoughts
This is one of those books that everyone seemed to be talking about at the end of 2015. I didn't know much about it but was intrigued by all the hype and was glad when I was able to get a copy. I deliberately went into it with as little knowledge as possible, because when a book is hyped so much I find it best not to know too much or your expectations get set too high.
Lucille is struggling to keep up the appearance of a normal, functioning household when her mother disappears with no note of when she plans to return. Left alone to look after her little sister, Lucille does her best to make sure that no one suspects anything because she doesn't want her sister to be taken away from her. With her father out of the picture and her mother barely sending enough money to get by, Lucille is at the end of her tether and unsure of what the future will hold for the remains of her family. The last thing she wants at this time is to fall in love with the cute boy who used to live next door, and also happens to be her best friend's twin.
I loved the concept of this story once I got into it. It was so simple really, just a girl trying to survive the day-to-day dramas of life with a little more bad luck than anyone should have to deal with. I found Lucille to be an admirable character, taking things pretty much in stride and trying not to let too many things get her down. When things got really tough and all of a sudden there's a mysterious benefactor bringing them food, tidying their house and garden, and generally looking out for them without revealing who they are, Lucille gets suspicious but can barely afford to question it.
The romance was sweet. It was easy to see that they both liked each other, but there was the typical obstacle of the girlfriend. I liked how this was resolved, with real drama and real fights. The strain it put on all Lucille's relationships was heart-breaking but it felt more real than some fictional relationships I've read.
I think perhaps my favourite part was when we were introduced to her father. Learning about the history between her mum and dad was brutal, but it shed some much needed light on why she was in the situation she was in. The fact that each character in this story was a little broken was brilliant. It was nice to read about people with flaws for a change – no one in this book was perfect.
I completely understand why this book was hyped so much. It's a fantastic debut that has a lot of depth and soul and shows the kindness of others and how close knit communities can be. The characters were flawed, lashed out, acted petty, but were real.
This is definitely a book I'd recommend others pick up if they're looking for something that is a little more real than some books. It's harsh at times but still has the happy ending that everyone always hopes for.
Buy Links!
Non-Affiliate
Amazon UK | Amazon US | Barnes & Noble | Book People | Waterstones
Affiliate
Book Depository | Foyles
---
About the Author
Estelle Laure is a Vonnegut worshipper who believes in love and magic and the power of facing hard truths. She has a BA in Theater Arts from New Mexico State University and an MFA in Writing for Children and Young Adults from Vermont College of Fine Arts, and thinks everyone should have to wait tables or work in a kitchen at least once in their lives. She lives in Taos, New Mexico with her children.
*Picture and biography from Goodreads.