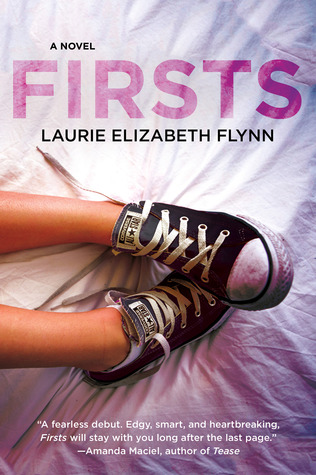 Title: Firsts
Author: Laurie Elizabeth Flynn
Published: January 5th 2016
Publisher: St Martin's Griffin
Genre: Young Adult, Contemporary, Romance
Length: 320 pages
Source: eARC from NetGalley
Book Blurb (via Goodreads):
Seventeen-year-old Mercedes Ayres has an open-door policy when it comes to her bedroom, but only if the guy fulfills a specific criteria: he has to be a virgin. Mercedes lets the boys get their awkward, fumbling first times over with, and all she asks in return is that they give their girlfriends the perfect first time- the kind Mercedes never had herself.

Keeping what goes on in her bedroom a secret has been easy- so far. Her absentee mother isn't home nearly enough to know about Mercedes' extracurricular activities, and her uber-religious best friend, Angela, won't even say the word "sex" until she gets married. But Mercedes doesn't bank on Angela's boyfriend finding out about her services and wanting a turn- or on Zach, who likes her for who she is instead of what she can do in bed.

When Mercedes' perfect system falls apart, she has to find a way to salvage her reputation and figure out where her heart really belongs in the process. Funny, smart, and true-to-life, FIRSTS is a one-of-a-kind young adult novel about growing up.
My Thoughts
The concept of this story intrigued me so much that I just had to pick it up. A book that openly talks about sex in a normal and natural way about and for teens isn't actually something I've seen a lot of – if at all. Flynn's brutally honest approach to her debut had me astounded, but in a good way.
Mercedes has been hurt in the past and she doesn't want it to happen to any other girl. With that in mind, she finds boys at her school who are virgins and allows them to lose their virginity with her so that they can give their actual girlfriends the best first experience possible. It's an admirable, if flawed, system that seems to be a win all around. The boys get to be less nervous for their girlfriends and Mercedes has done a good deed that no one will ever find out about.
That was how it was supposed to be anyway, but of course nothing stays secret for long in high school.
The way that Flynn handled the reveal of Mercedes' secret and the reaction that some of the girlfriends had was spectacular. There was so much viciousness between the girls that I didn't have trouble believing for a second that this was how a situation like this would actually go. Mercedes receives some harsh fallout from her good deeds coming out and it was pretty brutal to read.
What I liked was Mercedes and Zach's relationship. She's so firmly against a proper relationship and he was just so damn sweet all the time that I was really rooting for them the whole way. The fact that he sticks by her when very few people do after everything comes out really made me like him all the more.
The best thing about Firsts, is that it feels real. There's nothing about it that screams fictional, for all I know, this was based on true events. It reads that well. I felt so sorry for Mercedes, even though you knew that this kind of thing would be inevitable for her.
I found the resolution of everything really satisfying. The whole crazy escalation of things was intense and an edge-of-your-seat read as you tried to keep up with who knew what and who was doing what and it all just made me want to yell at everyone. I loved how things turned out though.
This is definitely a debut to look out for. I'm looking forward to seeing what Flynn does next.
Buy Links!
Non-Affiliate
Amazon UK | Amazon US | Barnes & Noble
Affiliate
Book Depository
---
About the Author
Laurie Elizabeth Flynn writes contemporary fiction for young adults. Her debut, FIRSTS, will be published by Thomas Dunne Books/St Martin's Press in 2016.
Laurie went to school for Journalism, where the most important thing she learned was that she would rather write made-up stories than report the news. She also worked as a model, a job that took her overseas to Tokyo, Athens, and Paris.
Laurie now lives in London, Ontario with her husband Steve, who is very understanding when she would rather spend time with the people in her head. Laurie can mostly be found writing happily at her desk, with the world's most spoiled Chihuahua on her lap. Laurie drinks way too much coffee, snorts when she laughs, and times herself when she does crossword puzzles.
Laurie is represented by the amazing Kathleen Rushall of the Marsal Lyon Literary Agency.
*Picture and biography from Goodreads.