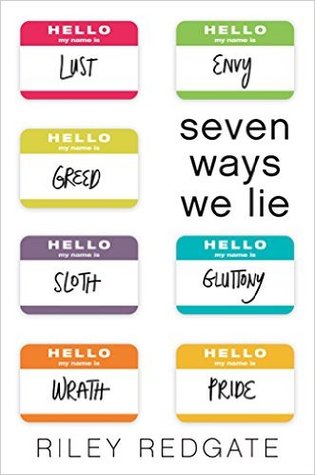 Title: Seven Ways We Lie
Author: Riley Redgate
Published: March 8th 2016
Publisher: Amulet Books
Genre: Young Adult, Contemporary, LGBT+
Length: 352
Source: Hardback ARC from the publisher
Book Blurb (via Goodreads):
Paloma High School is ordinary by anyone's standards. It's got the same cliques, the same prejudices, the same suspect cafeteria food. And like every high school, every student has something to hide—whether it's Kat, the thespian who conceals her trust issues onstage; or Valentine, the neurotic genius who's planted the seed of a school scandal.

When that scandal bubbles over, and rumors of a teacher-student affair surface, everyone starts hunting for someone to blame. For the unlikely allies at the heart of it all, the collision of their seven ordinary-seeming lives results in extraordinary change.
My Thoughts
I first found out about this book through Twitter. Someone on my feed had retweeted a picture of this cover saying how much they loved it and I had to agree with them so I had to find out more about the book itself. I was super happy when I got my hands on a copy and it was honestly such an interesting insight into the inner workings of people's minds and how they want to be perceived versus how they actually feel.
Seven Ways We Lie follows seven students at Paloma High School who are all connected in various ways. After a morning assembly where it was announced that a student/teacher relationship was going on and there would be an investigation to discover who exactly was involved, we follow the students as they try to get on with their lives during the fallout of such an announcement.
Going into this book, I wanted to try and work out which kid was the representation of which sin, but I soon found myself so lost in the story that it didn't matter after three chapters. Each chapter follows a different character: Olivia, who likes to hook up with lots of boys but is becoming tired of the unwanted attention; Kat, Olivia's sister, who is the star of the theatre group but distant and cold to everyone; Matt, the stoner kid who drifts through school and the only thing he cares about is his little brother; Juniper, popular, beautiful, high-achieving and practically perfect in every way but suffering with the weight of her parents' indifference and her own secret; Claire, who can't stop comparing herself to her friends and is still trying to get over her break up with Lucas; Lucas, the most popular boy in school and member of the swim team who has an insatiable need for the best of everything and uses shady means to fund his habit in an effort to mask who he really is; finally, Valentine, who is socially inept and on the outskirts of the school hierarchy in terms of popularity.
Each character is so unique with their own secrets and mistakes and constant questioning of their actions. It was fantastic to see the ways that they all interacted and how it impacted things that happened with the others. The affair is at the heart of the story but it isn't so in your face that the whole book is entirely about it alone. There's the begrudging friendships that form between the group when have to hide a shared secret from the rest of the world and there's also so many revelations throughout that the affair sometimes fell to the back of my mind. It was so satisfying to just dig out little pieces of information about each character and learn more about them in themselves.
Of all the different crossing story lines, my favourite had to be Olivia and Matt's. These two were so opposite end of the social spectrum that they seemed such an unlikely pairing, but when forced together for an English project, it was really heart-warming to see them both open up to each other about their issues at home to each other.
Juniper's chapters were a little hard to make sense of at times, hers was a unique narrative that helped to solidify her confused mental state at times. It was understandable that she wasn't coping well with keeping things locked inside of her and the fact that she felt she had no one to turn to was immediately obvious. My heart went out to her, even at the very end.
The affair becomes a catalyst for several things that happen during the story – such as Lucas become a victim after being so popular because of Claire's need for revenge. But as we go through the story, learning more about the teen's lives, it becomes clear exactly who the student is that's involved with the teacher. What I didn't expect was how the affair came about and I think that it made a huge difference in the way that I thought about the relationship. It was definitely a difficult situation to be in.
In short, this story is amazing with its layers of depth and character exploration. There's so much in this story that you wouldn't immediately think going into it. I absolutely loved reading it and would highly recommend it to others. Nothing feels forced or thrown in just because. It flows beautifully from one character to the next, one event to the next, and it all comes to an ending that gives you pause to think back on what just happened – in a good way!
Buy Links!
Non-Affiliate
Amazon UK | Amazon US | Barnes & Noble | Waterstones
Affiliate
Book Depository | Foyles
---
About the Author
Hey, hi. Riley here. I am a(n):
—YA novelist
—Shark enthusiast
—Economics major at Kenyon
—ECON IS FUN I PROMISE
—Okay
—Also a classical pianist & singer-songwriter
—I am a human person comprised primarily of soft tissue, and by golly, I hazard a guess you are, too. we have so much in common.
—So look, when I was like 15, someone messaged me on fanfiction dot net telling me that the "sheer amount of stupid" on my profile guaranteed that they would never read my work
—Clearly, I have not learned my lesson
—I hope you're having a really good day!
—Bye!
Website | Twitter | Facebook | Goodreads
*Picture and Biography from Goodreads