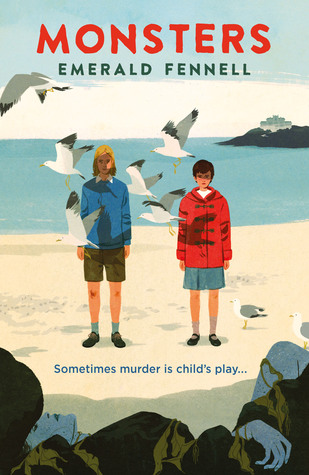 Title: Monsters
Author: Emerald Fennell
Published: September 3rd 2015
Publisher: Hot Key Books
Genre: Young Adult, Thriller
Length: 288 pages
Source: Purchased at YALC 2015
Book Blurb (via Goodreads):
A blackly comic tale about two children you would never want to meet.

Set in the Cornish town of Fowey, all is not as idyllic as the beautiful seaside town might seem. The body of a young woman is discovered in the nets of a fishing boat. It is established that the woman was murdered. Most are shocked and horrified. But there is somebody who is not – a twelve-year-old girl. She is delighted; she loves murders. Soon she is questioning the inhabitants of the town in her own personal investigation. But it is a bit boring on her own. Then Miles Giffard, a similarly odd twelve-year-old boy, arrives in Fowey with his mother, and they start investigating together. Oh, and also playing games that re-enact the murders. Just for fun, you understand…

A book about two twelve-year-olds that is definitely not for kids.
My Thoughts
I picked this book up because the premise really gripped me. I've loved every book I've ever picked up that Hot Key Books has published and I was keen to see what this one would be like as it is a bit darker than some of their other titles and I've started to really enjoy getting into darker fiction, specifically horror stories.
In a quiet seaside town, a grisly murder brings excitement for one little girl when she meets a boy her age and together they decide to recreate murders and give morbid tours around the area. The book gets darker and darker as the pair delve deeper into the mystery of the dead woman.
One of the things I really liked about this book was how dark it really went, it wasn't afraid to push the boundaries of what would normally be considered okay in a young adult book. I do think that this book could potentially be too much for some young readers, but it's a fantastic story for mature young readers.
Watching the budding relationship between Miles and the girl was really interesting. I found myself getting uncomfortable with some of the situations that she found herself in at his hands, but it worked well within the narrative of the story and gave me a healthy wariness for his character. As young children, I hadn't expected them to be as morbid and fascinated with death and murder as they were. This led to them exploring remote and dangerous parts of their town in order to uncover clues about the dead woman who had been found.
I loved the ending. It wrapped things up fantastically and pushed things even further. Miles's true character is revealed and it was great to see how the events rounded off in a way that made sense. The reveal of the mystery was brilliantly done too, I hadn't guessed the outcome which is always a bonus when reading a mystery.
A very interesting read that I thoroughly enjoyed, but would recommend caution with regards to how dark it can go. Morbid, yet gripping, this is a brilliant read that I would definitely recommend for fans of the genre.
Buy Links!
Non-Affiliate
Amazon UK | Amazon US | Waterstones
Affiliate
BookDepository
---
About the Author
Emerald is a writer and an actress (Call the Midwife). She lives in London with a very quiet ghost. She is the daughter of jewellery designer Theo and author Louise Fennell.
*Biography from Goodreads