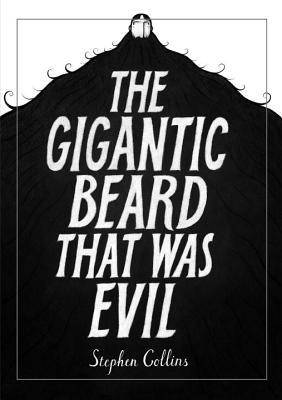 Title: The Gigantic Beard That Was Evil
Author: Stephen Collins
Published: June 17th 2013
Publisher: Jonathan Cape
Genre: Graphic Novel
Length: 240 pages
Source: Purchased as a gift for my boyfriend
Book Blurb (via Goodreads):
The job of the skin is to keep things in.

On the buttoned-down island of Here, all is well. By which we mean: orderly, neat, contained and, moreover, beardless.

Or at least it is until one famous day, when Dave, bald but for a single hair, finds himself assailed by a terrifying, unstoppable… monster*!

Where did it come from? How should the islanders deal with it? And what, most importantly, are they going to do with Dave?

The first book from a new leading light of UK comics, The Gigantic Beard That Was Evil is an off-beat fable worthy of Roald Dahl. It is about life, death and the meaning of beards.

(*We mean a gigantic beard, basically.)
My Thoughts
This book caught my eye when I was browsing in Waterstones one afternoon and I decided to buy it as a little gift for my boyfriend – who has a beard and I thought he'd find it amusing. Before I gave it to him, I decided to read it myself and I'm really glad that I did.
In Here, everyone is the same. Things are neat and tidy and everyone is neat and tidy and there's order. But then one day, a man discovers a rogue hair. It won't go away. It keeps growing and growing until his beard is so large the people of Here have to take drastic measures.
This was an adorable graphic novel that made me smile in a bittersweet kind of way. The story is in rhyme, which made it a joy to read, and the illustration was spot on for the style of story that this was.
From that first little hair that sprouts on his face, to the epic structure that the townspeople build in order to deal with the enormity of the beard, this story is an adventure that will take you into the strange town of Here for a while.
I really enjoyed this and I'd highly recommend it. The story is brilliant and together with the pictures, work to create a unique story with a beautiful ending.
Buy Links!
Non-Affiliate
Amazon UK | Amazon US | Barnes & Noble | Book People | Waterstones
Affiliate
Book Depository | Foyles
---
About the Author
Stephen Collins is a UK illustrator and cartoonist. His work has appeared in many publications worldwide, and he has a weekly comic in The Guardian Weekend magazine, as well as a monthly one in Prospect. In 2013 Jonathan Cape published his debut graphic novel The Gigantic Beard That Was Evil, which was shortlisted for the Waterstones Book Of The Year award. A collection of his shorter comics titled Some Comics By Stephen Collins was published by Jonathan Cape in 2014.
Website | Twitter | Tumblr | Facebook
*Biography from Goodreads