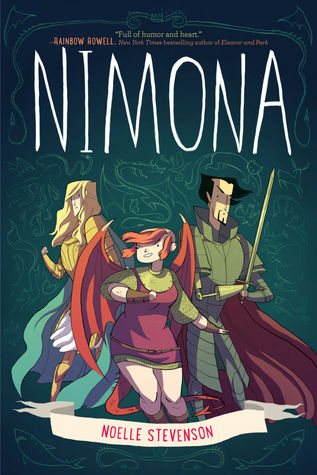 Title: Nimona
Author: Noelle Stevenson
Published: May 12th 2015
Publisher: Harper Collins
Genre: Graphic Novel, Fantasy
Length: 272 pages
Source: Purchased from Waterstones
Book Blurb (via Goodreads):
The graphic novel debut from rising star Noelle Stevenson, based on her beloved and critically acclaimed web comic, which Slate awarded its Cartoonist Studio Prize, calling it "a deadpan epic."

Nemeses! Dragons! Science! Symbolism! All these and more await in this brilliantly subversive, sharply irreverent epic from Noelle Stevenson. Featuring an exclusive epilogue not seen in the web comic, along with bonus conceptual sketches and revised pages throughout, this gorgeous full-color graphic novel is perfect for the legions of fans of the web comic and is sure to win Noelle many new ones.

Nimona is an impulsive young shapeshifter with a knack for villainy. Lord Ballister Blackheart is a villain with a vendetta. As sidekick and supervillain, Nimona and Lord Blackheart are about to wreak some serious havoc. Their mission: prove to the kingdom that Sir Ambrosius Goldenloin and his buddies at the Institution of Law Enforcement and Heroics aren't the heroes everyone thinks they are.

But as small acts of mischief escalate into a vicious battle, Lord Blackheart realizes that Nimona's powers are as murky and mysterious as her past. And her unpredictable wild side might be more dangerous than he is willing to admit.
My Thoughts
This is one of those books that everyone was talking about and I bought it for two reasons. The first was because everyone was talking about it and the second was because I'd never read a graphic novel before and this one seemed like a good place to start.
Nimona is a sidekick with a difference. She's got an extraordinary power and she wants to use it for evil! Ballister Blackheart and his nemesis, Ambrosius Goldenloin, have been battling it out for years but with the wild card of Nimona thrown in the works, their familiar dance is about to be blown to pieces – literally!
I really enjoyed this story. It was a fun new take on superheroes and villains and Nimona made an excellent sidekick. She was a feisty, guns blazing kind of girl and I absolutely loved her from the moment I met her.
Seeing how she interacted with Blackheart was fun – half the time he didn't know what to make of her and it was hilarious to watch their antics. I enjoyed the way the story turned at the end so it wasn't all humour and fun.
Wonderful art style that I fell in love with from the cover of Fangirl by Rainbow Rowell, I will definitely be seeking out more of Noelle's works.
Buy Links!
Non-Affiliate
Amazon UK | Amazon US | Barnes & Noble | Book People | Waterstones
Affiliate
Book Depository | Foyles
---
About the Author
Noelle Stevenson is a comic artist and freelance illustrator residing in Los Angeles, California. She is currently working on her first comic, NIMONA, which is being serialized online and will be published by HarperCollins as a young adult graphic novel in the spring of 2015. She has been nominated for a Harvey Award, and was awarded the Slate Cartoonist Studio Prize for Best Webcomic in 2012. She is a graduate of the Maryland Institute College of Art and has done published work for BOOM! Studios, Random House, MacMillan Press, and What Pumpkin Studios, among others. She is the co-writer of LUMBERJANES, a comic series from BOOM! Box, and has done writing work for Frederator's BRAVEST WARRIORS as well
*Picture and biography from Goodreads