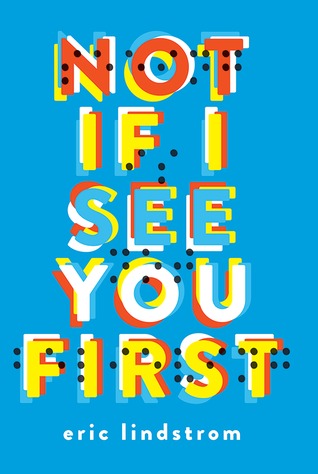 Title: Not If I See You First
Author: Eric Lindstrom
Published: December 1st 2015
Publisher: Poppy
Genre: Young Adult, Contemporary, Romance
Length: 310 pages
Source: NetGalley eARC
Book Blurb (via Goodreads):
The Rules:

Don't deceive me. Ever. Especially using my blindness. Especially in public.

Don't help me unless I ask. Otherwise you're just getting in my way or bothering me.

Don't be weird. Seriously, other than having my eyes closed all the time, I'm just like you only smarter.

Parker Grant doesn't need 20/20 vision to see right through you. That's why she created the Rules: Don't treat her any differently just because she's blind, and never take advantage. There will be no second chances. Just ask Scott Kilpatrick, the boy who broke her heart.

When Scott suddenly reappears in her life after being gone for years, Parker knows there's only one way to react—shun him so hard it hurts. She has enough on her mind already, like trying out for the track team (that's right, her eyes don't work but her legs still do), doling out tough-love advice to her painfully naive classmates, and giving herself gold stars for every day she hasn't cried since her dad's death three months ago. But avoiding her past quickly proves impossible, and the more Parker learns about what really happened—both with Scott, and her dad—the more she starts to question if things are always as they seem. Maybe, just maybe, some Rules are meant to be broken.

Combining a fiercely engaging voice with true heart, debut author Eric Lindstrom's Not If I See You First illuminates those blind spots that we all have in life, whether visually impaired or not.
My Thoughts
I originally picked this book up because I wanted to read a story about a character so vastly different from my own life experience. I wanted to see the portrayal of a blind, teenage girl and see what struggles she would face – apart from the obvious. I tried not to set my expectations too high, but after reading a sample of this story in a Buzz Books catalogue, I was excited to see how it turned out.
Parker has dealt with people treating her differently for years and so she created a set of rules to stop people from accidentally putting their foot in their mouth when they spoke to her. Her usual routine is thrown out of whack when a face from her past resurfaces and she has mixed feelings about it all. Learning that even she can make mistakes, Parker discovers that perhaps her rules aren't there to help others be around her, but to shut them out instead.
I absolutely loved this book from start to finish. Parker was a spunky, sarcastic girl with a fun, if blunt, attitude towards life. Once someone crossed her, that was it. No second chances. But then Scott Kilpatrick re-enters her life and things turn upside down as she realises that perhaps her version of events isn't the only version there is after all.
The best thing about this story was the cast of characters. Each person in Parker's life felt unique and brought something different to the story. Not one of them molly-coddled her the entire time, like you sometimes expect people to do with blind people, and it was great to read from the perspective of someone who can't see.
Although she's blind, Parker doesn't let that stop her from living her life and I found it really interesting to read things from her point of view: seeing what her mental image of someone is like compared to what they actually looked like, or how she described things that she couldn't see.
I thought this was a great romance story that didn't actually focus too much on the romance itself. Seeing the history between Parker and Scott was brilliant and the way that it's gradually revealed was brilliant. Teasing out little details here and there.
I found this story to be a fantastic read with a unique cast of characters and personalities that felt refreshing and real. If you haven't picked it up yet, I'd highly recommend.
Buy Links!
Non-Affiliate
Amazon UK | Amazon US | Barnes & Noble | Book People | Waterstones
Affiliate
Book Depository | Foyles
---
About the Author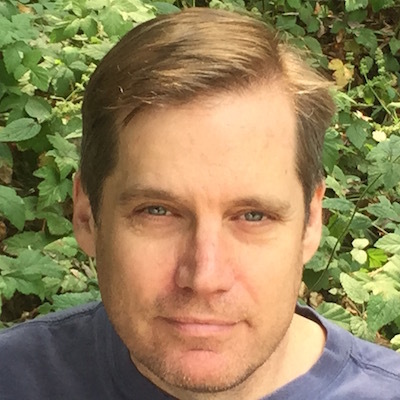 In addition to writing Young Adult novels, Eric Lindstrom has worked in the interactive entertainment industry for years as a creative director, game designer, writer, and usually combinations of all three. As Editor and Co-Writer for Tomb Raider: Legend he received a 2006 BAFTA nomination for Best Video Game Screenplay, and then as the Creative Director for Tomb Raider: Underworld he received a 2009 BAFTA nomination for Best Action Adventure Video Game and a 2009 WGA nomination for Best Writing in a Video Game.
He has also raised children, which led to becoming first a school volunteer, then a substitute teacher, then a part time kindergarten teacher, then getting a credential to teach elementary school, and most importantly the discovery that YA literature is awesome. It's pretty much all he ever reads, and now writes, in his house near the beach on the west coast, with his wife and, yes, cats.
Website | Twitter | Facebook | Instagram | Goodreads
*Picture and Biography from Goodreads