Another week has come and gone and I feel like I've not done a whole lot due to day job related things and lack of sleep.
---
Books Finished
This week I managed to finish three books, so I think I'm finally getting back on track with my reading again. Granted, two of the books were middle grade stories for young children and so they didn't take me long to read, but considering the week I've had, this is great progress!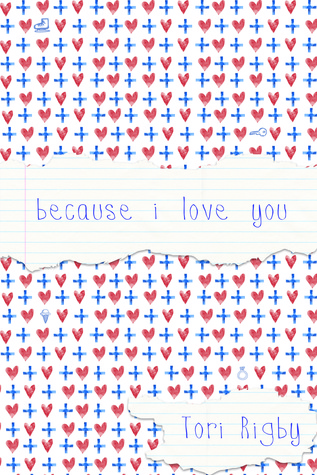 This week I kicked it off by finishing Because I Love You by Tori Rigby, which has to be one of the sweetest contemporary reads I've read in a while. When I managed to sit down and read just this book, I flew through it with a stupid grin on my face. It was such a great read and I had hoped to have my review up of this week, but as mentioned above, life got in the way.
Release Date: May 17th 2016
Goodreads
I've had a good number of proof copies sent to me this week – which is awesome – and Fox Investigates was one of them. I hadn't been expecting it – I actually thought it was the other book that I finished this week – but it was a fantastic story and a super quick read for me.
Release Date: June 2016
Not on Goodreads
The final book I finished this week was another of the proof copies, one that I knew I was getting, and I was really looking forward to it. For younger readers, it was a super fast read for me, but I thoroughly enjoyed it and am already looking forward to the next book in the series, although it doesn't come out until early next year!
Release Date: 2nd June 2016
Not on Goodreads
---
Books Read
Although I finished three books this week, I've been a bit indecisive about which ebook to read next and so I dipped into a couple before finally settling on one.

Currently on page 162/300
I've been continuing Alfie Bloom this week, in amongst my other reading. It's the book that I'm focusing on most now and will probably finish it before the day is out. I'm absolutely in love with this story and the characters and I can't wait to see what happens next. The second in the series is one of the proofs I received this week so I'm really glad I won't have to wait in between finishing this one and starting the next!
Release Date: June 4th 2015
Goodreads

Currently on 9%
This one is an eARC that I got through NetGalley ages ago. I'm ashamed to say how many NetGalley books I have that are now archived before I've gotten around to reading them. In an effort to sort that situation out, I wanted to get an older ARC read but this one didn't quite pull me in because I'm just not in the mood for something dark and mysterious right now. I am intrigued by the fact that this appears to have Mary Shelley (author of Frankenstein) as a character in it though!
Release Date: February 10th 2015
Goodreads

Currently on 7%
This is the NetGalley book I've settled on for now. It's a light contemporary and that's what I'm really in the mood for just now. It's a problem when I get into these kinds of moods where I only really want to read one kind of book – because a lot of the ARCs that I have are generally darker and/or fantasy and I haven't been in the mood for that lately. I'm not far into this one, but I'm really enjoying the character voice and I'm intrigued to see what the actual events of the novel are. So far all I've had is introductions to the members of her family.
Release Date: March 3rd 2015
Goodreads
---
Blog Posts
There haven't been any blog posts this weeks for a couple of reasons. First, I forgot to write some up last Sunday so that I could schedule them in advance. Second, there was an attempted break in at my day job this week and so I was working overtime so that there was always more bodies in the store. And finally, I've had some of the worst sleep this week and so coupling that with working extra, I've really just been a lump on the sofa when I haven't been working. I do plan to sort that this week with a bunch of reviews and at least one guest post, so keep your eyes peeled for those!
---
Not a great week, really, but these things happen. There's only a few weeks until I'm off to Amsterdam so I'm hopeful that I can be caught up and posts scheduled for while I'm away!