It's that time again! The new Buzz Books collection is out and I am excited to see what stories are sampled within! As usual, I'll be doing mini reviews of each book (unless it's a book in a series I haven't read yet) and I'll have 4-5 in each post. So, without further ado, let's jump in!
---
I've heard of David Arnold before, but I haven't picked up any of his books. I really like the cover for this one but I have absolutely no idea what it could be about so I'm going into this one blind.
This was a lot darker than I had expected. The sample showed a scene between one of the protagonists and a police officer in an interrogation room and I already have so many questions that I would love to have answered about why he's there and who they're talking about and just what the heck happened to bring about these events.
I have a feeling that I may pick this one up because it was quite interesting. The writing style was fluid and broken by several small breaks. I definitely want to find out what happened/happens.
Release Date: September 20th 2016
Goodreads
---
(apologies for the cut off book cover, this book doesn't appear to be on Goodreads just yet, the author's name is Elly Blake)
I have actually heard about this one but only because it happened to be in a BEA book haul that I watched on YouTube. I like the cover and it seems to have an interesting concept that I'd be keen to look into more.
This definitely looks set to be an exciting adventure. I was sucked into the preview and actually disappointed when it ended and there wasn't any more. Ruby seems to be an interesting character with the gift of being able to control fire – which is not something you want to be able to do in her world. It ended with her village burning at the hands of the soldiers sent to fetch her and I just wanted to turn the page and find out what happens next.
I think I'll wait and see what the reviews say on this one before I pick it up myself. It feels like one of those stories that could be very hit or miss depending on how the journey is handled.
Release Date: January 17th 2017
---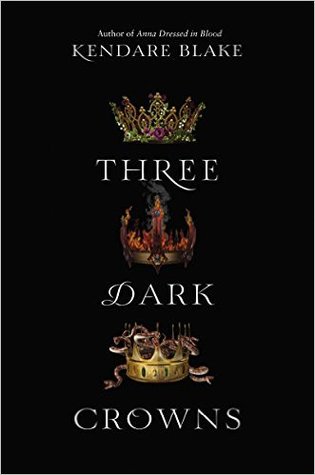 I think I saw this in the same BEA book haul video as the book above but I can't recall what it was about. I do like the cover though, it's simple but enough to catch the eye.
This was perhaps the longest sample I've ever read in a Buzz Books sampler, but I really got sucked into the story and was disappointed when I didn't get the perspective of the third queen. The first queen is supposed to be immune against poisons and yet, this one is not. The second queen is supposed to have a familiar and be able to control plants and animals and yet, this one does not. I can only imagine what the third queen is like – supposedly very strong but with a temper.
I definitely need to get this book so I can read the story in its entirety.
Release Date: September 20th 2016
Goodreads
---
 First of all, I love this cover! It's so pretty. After reading the description, I'm actually excited to jump into this one. I haven't read a story involving witches lately and I'm quite keen to see if this one grabs my interest.
Okay, I'm officially adding this to my wishlist. The idea that two babies were switched at the moment of birth was cool as it was, but the fact that one of them is a witch and the other isn't made it even more interesting. I thoroughly enjoyed this excerpt. The insight into the lives of the girl who should have grown up in the coven having to deal with her powers without knowing what it actually is, as well as the fact that her mother slowly lost her mind because she was convinced (and rightly so) that the child she was caring for was not in fact her biological child.
I can see myself flying through this one. It just seems to good with its hidden secrets and schemes. Definitely one I'll be looking into getting.
Release Date: June 16th 2016
Goodreads
---
Again, this cover is really pretty and drew my eye almost instantly. I love how beautiful a lot of covers are these days! I have no idea what this book is about and haven't read the blurb as of yet so I'm just going to jump into reading it.
I'm not sure how I feel about this one. I find the premise intriguing – that every so often everyone's memories are wiped and they have to start over with nothing – but something about the way it was written didn't pull me in as much as I'd hoped. Don't get me wrong, it wasn't terrible. I just didn't have my usual 'I can't put this down!' feeling, which was a shame.
I'd most likely give this one a go, but I don't think I'll be jumping in my seat to get it.
Release Date: September 13th 2016
Goodreads
---
So that's the first five books in this edition of Buzz Books! Keep your eyes open for Part Two, coming soon.