Today I'd like to try something a little different with my post. I've decided to start a new blog series chronicling my attempts to whittle away at my intimidatingly large TBR pile. If any of you are subscribed to my BookTube channel, you'll recognise the name. So, today, let's start at the beginning with this new attempt at my TBR…
---
At my last count, my TBR pile was sitting somewhere around 300 books and I know I've had a few more since then. As you can imagine, it's a bit intimidating to look at all the unread books littering my flat or my kindle and choose which ones I would like to read next. And so part of this new series is that I'd like to take the pressure off myself a little bit and put it on you, the readers.
I like to try and read three books at any given point: one paperback book, one ebook from NetGalley, and one ebook ARC from an author/publisher outside of NetGalley. In doing this, I tend to read a good variety at any given point and it helps if I don't feel like reading one particular book at a certain time.
So, with that in mind, let me introduce you to the books I'm currently reading:
Paperback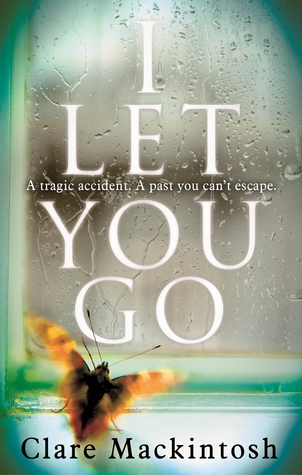 Now, although this is my current paperback read, it's also technically a NetGalley read too. I feel horribly guilty every time I walk into a book store such as Waterstones and see books that I've been approved for on NetGalley on the shelves and I haven't even had a chance to look at it yet! To remedy this guilt, I will often buy the book.
That was the case with I Let You Go by Clare Mackintosh. When I first joined NetGalley, I binge requested and ended up with too many books and too little time to read them all. I am still trying to recover from this mistake after two years of being a member on the site.
I was approved for I Let You Go on NetGalley on January 5th 2015, so it is long overdue for a read and review. I often find that when I pick up these books that have sat in my TBR for a while, I love them.
I'm currently on page 96 or 97 (I stopped reading mid-chapter for some reason) of 371. I'm really enjoying it so far. It's an adult crime/thriller and I'm really intrigued to see what happens. I love a good crime fiction novel and this one definitely has me intrigue.
It was released originally on November 4th 2014, the latest version released May 3rd of this year.
---
NetGalley eBook
My current NetGalley read is actually one of the more recent ones that I was approved for. I read a sample of The Progeny in Buzz Books 2016 YA Spring/Summer sample book and felt like I needed to read the entire book after reading the excerpt. I was approved for this title on February 9th of this year – so you can see even my recent approvals are a few months old!
I'm currently 28% of the way through reading this on my kindle and I usually read a little bit every night before I go to bed. My reading speed has slowed significantly this year compared to last year sadly (50 books behind on my Goodreads challenge makes me sad) but I'm still reading a fair amount.
The Progeny was released this year on May 24th.
---
eARC
I don't actually have one right now as I'm reading the Buzz Books 2016 Young Adult Fall/Winter collection at the moment, so please help me choose which book to read once I'm finished!
---
I do hope that you'll take the time to vote in the polls for my next reads. I'd love to know if you've read any of my current reads – or even any of the options I've set for my next reads!
Hope you guys have an awesome day!