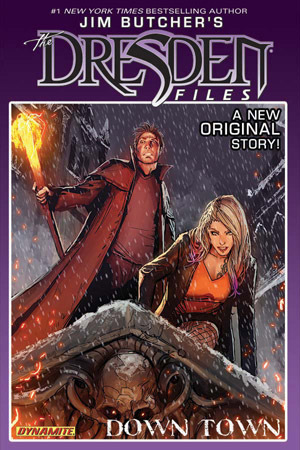 Title: Jim Butcher's Dresden Files: Down Town
Author: Jim Butcher
Published: September 23rd 2015
Publisher: Dynamite Entertainment
Genre: Graphic Novel, Urban Fantasy, Crime
Length: 144 Pages
Source: NetGalley eARC
Book Blurb (via Goodreads):
Chicago wizard-for-hire Harry Dresden and his new apprentice, Molly Carpenter, intend to end the havoc caused by a mad sorcerer – one whose ambitions would have the Windy City streets carved out as his own private kingdom. But when the magical upstart enters into an alliance with the notorious mob boss "Gentleman Johnnie" Marcone, will the fast-and-loose Dresden and his young charge survive unscathed?
My Thoughts
I was quite excited to pick this graphic novel up because I love Jim Butcher's Dresden Files books and I was keen to see how they translated into graphic novels. Unfortunately for me, I picked up an issue which is ahead of me in the books so there was some slight spoilers – my boyfriend was telling me not to read it! I don't mind small spoilers though and now I'm excited to get back to the series to find out exactly how Harry gets from where I've read up to in the books to where he is in this particular graphic novel.
I don't want to go too in-depth with this review simply because I don't want to spoil the series for others as I did for myself but it's safe to say that Harry once again finds himself in a bit of trouble and it's not just with his magical abilities, it's also with the mob. Having to create an uneasy alliance in order to track down and neutralise the threat to the city wasn't exactly what Harry wanted but he goes with it.
This has all the classic Harry Dresden quips and action, but in a visual form that is perfect for the style. Although the ending felt a little anti-climatic for my tastes, I'd definitely want to check out the other graphic novels in the series – I just feel like they really draw you into Harry's world. I would definitely recommend this to fans of the series if they're looking for another Dresden fix.
Buy Links!
Non-Affiliate
Amazon UK | Amazon US | Barnes & Noble | Waterstones
Affiliate
Book Depository | Foyles
---
About the Author
Jim Butcher is the author of the Dresden Files, the Codex Alera, and a new steampunk series, the Cinder Spires. His resume includes a laundry list of skills which were useful a couple of centuries ago, and he plays guitar quite badly. An avid gamer, he plays tabletop games in varying systems, a variety of video games on PC and console, and LARPs whenever he can make time for it. Jim currently resides mostly inside his own head, but his head can generally be found in his home town of Independence, Missouri.
Jim goes by the moniker Longshot in a number of online locales. He came by this name in the early 1990′s when he decided he would become a published author. Usually only 3 in 1000 who make such an attempt actually manage to become published; of those, only 1 in 10 make enough money to call it a living. The sale of a second series was the breakthrough that let him beat the long odds against attaining a career as a novelist.
All the same, he refuses to change his nickname.
*Picture from Jim's Website, courtesy of Karen Hacker, Biography from Goodreads