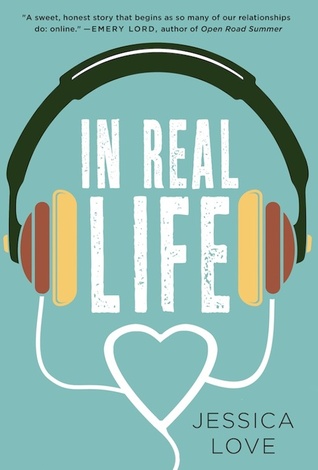 Title: In Real Life
Author: Jessica Love
Published: March 1st 2016
Publisher: St. Martin's Press
Genre: Young Adult, Contemporary, Romance
Length: 240 pages
Source: NetGalley eARC
Book Blurb (via Goodreads):
Hannah Cho and Nick Cooper have been best friends since 8th grade. They talk for hours on the phone, regularly shower each other with presents, and know everything there is to know about one another.

There's just one problem: Hannah and Nick have never actually met.

Hannah has spent her entire life doing what she's supposed to, but when her senior year spring break plans get ruined by a rule-breaker, she decides to break a rule or two herself. She impulsively decides to road trip to Las Vegas, her older sister and BFF in tow, to surprise Nick and finally declare her more-than-friend feelings for him.

Hannah's surprise romantic gesture backfires when she gets to Vegas and finds out that Nick has been keeping some major secrets. Hannah knows the real Nick can't be that different from the online Nick she knows and loves, but now she only has night in Sin City to figure out what her feelings for Nick really are, all while discovering how life can change when you break the rules every now and then.
My Thoughts
I love reading young adult contemporaries for the light, fluffy feeling they often leave me with. I was super intrigued by this particular one when I saw it was about long distance online friends meeting for the first time. I love that concept and I was excited to see how it played out.
Nick and Hannah have been chatting online for years after being introduced through their siblings – who met once at a concert. They're best friends even though they've never met, but Hannah wants them to be more. Taking a risk, and breaking all the rules, she sets out on a road trip to Las Vegas to surprise Nick in person, taking her sister and best friend along with her. But the trip doesn't exactly turn out how she'd hoped.
I loved this story. It was one of those ones that you can just fall into effortlessly and be swept along with the story. I loved that their relationship started online. I haven't read a lot of books – if any – that have that kind of relationship and considering my boyfriend and I met online, I was keen to see how this played out.
I felt the revelations were handled really well. Poor Hannah, I really felt for her at times. Having to spend the entire time she had in Vegas with Nick but not being able to be with him was hard to read. I just wanted to shake them both and tell them to snap out of it and just be together!
Exploring the depths on relationships formed online and how you can sometimes never truly know a person, In Real Life is a rollercoaster ride of emotions that's a perfect read for the end of summer.
Buy Links!
Non-Affiliate
Amazon UK | Amazon US | Barnes & Noble
Affiliate
Book Depository
---
About the Author
Jessica Love is a high school English teacher who lives in Southern California with her husband and their two tiny dogs. She's working on her Master's Degree in Writing for Children and Young Adults from Spalding University, and her big love is contemporary YA romance. Jessica spends all of her free money on concerts, constantly tries to prove that blondes have more fun, and is pretty much always on the internet.
IN REAL LIFE will be released from St. Martin's/Thomas Dunne on March 1, 2016. Co-written with Chelsie Hill from Sundance Channel's reality TV show Push Girls, Jessica's debut novel PUSH GIRL is available now.
Website | Twitter | Facebook | Tumblr | Instagram | Goodreads
*Picture and Biography from Goodreads