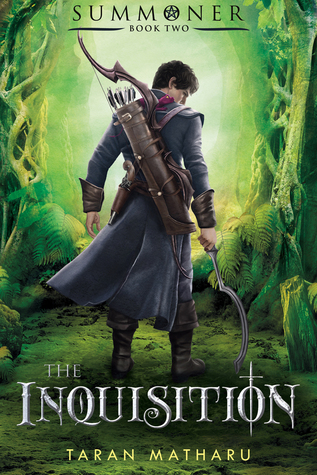 Title: The Inquisition
Author: Taran Matharu
Published: May 10th 2016
Publisher: Fiewel & Friends
Genre: Young Adult, Fantasy
Length: 368 pages
Source: NetGalley eARC
Book Blurb (via Goodreads):
A year has passed since the Tournament.

Fletcher and Ignatius have been locked away in Pelt's dungeons, but now they must face a trial at the hands of the Inquisition, a powerful institution controlled by those who would delight in Fletcher's downfall.

The trial is haunted by ghosts from the past with shocking revelations about Fletcher's origins, but he has little time to dwell on them; the graduating students of Vocans are to be sent deep into the orc jungles to complete a dangerous mission for the king and his council. If they fail, the orcish armies will rise to power beyond anything the Empire has ever seen.

With loyal friends Othello and Sylva by his side, Fletcher must battle his way to the heart of Orcdom and save Hominum from destruction…or die trying.
My Thoughts
You can find my review for the first book in this series, The Summoner, here.
I absolutely fell in love with the first book in this series, The Summoner. It's such a fantastically built fantasy world to fall into, with adventure, secrets, and danger around every corner. Just when you think everything will be okay, a spanner is thrown in the works and you're back on the edge of your seat. With such a massive cliffhanger at the end of the first book, I couldn't wait to jump into this one and find out what happens next.
Fletcher's past has come back to bite him. Despite winning the tournament at the end of his year at Vocans, Fletcher has been locked in a cell for the past year, awaiting his trial for attacking his childhood nemesis. When his trial begins, all sorts of revelations are brought to light, most notably about Fletcher's past. But he has little time to dwell on those, when the graduates of Vocans are required for the dangerous mission of going behind enemy lines to infiltrate the Orc settlement in a desperate rescue bid.
Once again, Matharu has delivered an action-packed fantasy that is rich in detail to transport you straight into the heart of the action. As Fletcher fights for his life during the trial, he's stuck between a rock and a hard place when he finds himself doing the same thing deep in the jungles at the Orc encampment. Having to constantly watch his back for fear that the enemies he made during his time in Vocans will come to get him, Fletcher and his friends make the desperate journey to try and rescue someone important deep within the Orc's land.
I have to say, I'm so happy that this book was just as good, if not better than the first. I always worry that my favourite series will fall foul of second book syndrome, but thankfully that wasn't the case here. Fletcher and his friends are still the strong-willed, brilliant characters I loved from the first book, and their relationships with each other have blossomed in this second book.
So much happens that it's hard to believe so much was crammed into one book! Not only do we follow the nail-biting trial for Fletcher's life, but there's the mission into the Orc's camp too. There's barely a moment to breathe as he's thrown from one life-threatening situation to the other.
A fantasy of epic proportions, Matharu delivers once again with a rollercoaster of adventure that ends with the cart on the precipice of the big fall. The bombshell at the end of this book blew the cliffhanger from the first out of the water. My mouth was literally hanging open. I can't wait for the next book as I'm sure it will be even bigger and better!
Buy Links!
Non-Affiliate
Amazon UK | Amazon US | Barnes & Noble | Book Depository | Book People | Foyles | Waterstones
---
About the Author
Taran Matharu is a New York Times bestselling author. He was born in London in 1990 and found a passion for reading at a very early age. His love for stories developed into a desire to create his own during early adolescence, beginning his first book at 9 years old.
Straight after graduating with a First Class degree in Business Administration, Taran was keen to explore a new avenue and get inside the publishing world, landing an internship in Digital Sales at Penguin Random House, from June to September 2013.
Thereafter, while taking time off to travel, Taran began to write 'Summoner' in November 2013 at the age of 22, taking part in 'Nanowrimo 2013'.
Thanks to Wattpad.com and updating daily, its popularity dramatically increased, reaching over 3 million reads in less than six months.
After being featured by NBC News, Taran decided to launch his professional writing career and has never looked back.
*Picture and Biography from Goodreads