I can't believe that we're almost at the end of August already! I've had quite a difficult week this week and because of that I've jumped between books while reading and haven't really settled on anything. I'm hoping to have a final push to finish all the books I've started before the end of the month though!
---
Books Finished
I absolutely loved this book. It was such a unique concept and different layout that I fell into it and didn't want to stop reading. I flew through this one and I think pretty much read this one in two sittings and finished it shortly after posting my week in review post last Sunday. This is definitely one that I recommend to everyone.
Release Date: September 22nd 2016
Goodreads
This is another one that I read fairly quickly and was gripped by. There was so much going on in this story that just when you thought it was going to be over, something else happened. The twists in this were brilliant, and expertly timed for maximum impact. It's such a long time to wait, but trust me, this book is worth adding to your wishlists now.
Release Date: January 2017
Goodreads
A friend of mine wrote this book so I was really keen to read it and see what it was all about. Add in the fact that it's a Scottish historical fiction and I was sold. I always worry, reading books by people I know, just in case they're terrible, but there was no need to worry with this one. It's a stunning tale and gives you chills when you remember it's based on a true story! Wonderfully written and I can't wait to share my review with you guys closer to publication.
Release Date: September 21st 2016
Goodreads
This is my NetGalley read of the week. I wasn't really sure what to make of this particular book. It was good at times, confusing at others, not very gripping at others… it was a book that was easy to put down, unfortunately. I enjoyed it when I was reading, but it just didn't grab me like my other reads have lately.
Release Date: November 10th 2015
Goodreads
---
Books Read
Ooh boy, here we go…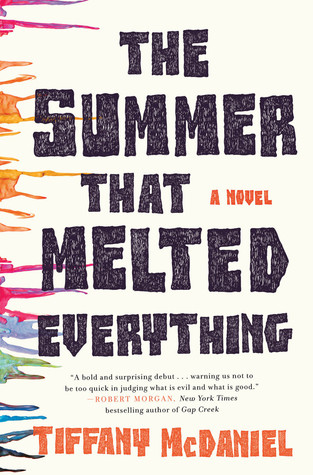 Currently on 60%.
I'm really loving this book but it is a slow read for me. To me, it reads like a classic and I'm taking extra care with it so that I don't miss anything important when reading. It seems like it's taken me forever to read this book and yet it's not actually that long. I'm hoping to finish it in the next couple of days as I'm really intrigued to see what happens next.
Release Date: July 26th 2016
Goodreads

Currently on page 49 of 224.
This is an interesting story. I wasn't expecting to be so drawn into a story about witches – not something I'm generally a fan of reading – but the writing in this is fantastic. I'm just at the point where Elizabeth has been discovered to have powers by a local boy and I'm wondering what the fallout of this will be.
Release Date: January 12th 2016
Goodreads

Currently on 28%.
My next NetGalley read, this one is sort of intriguing but not very gripping. I've found it really easy to put this one down and it's taking a very long time to get to the action. I mean, someone's died and Francie is looking into it, but at 28% I'd be expecting something a little more gripping and there's nothing pulling me back to this one immediately.
Release Date: March 11th 2015
Goodreads

Currently on page 102 of 307.
I love this story. Not only does it have fun illustrations dotted throughout the text but Poppy's voice is brilliant. This is a series that I can tell I'm going to fall in love with and I'm keen to see what mystery unfolds when the Egyptian artefacts are brought to the school in the next couple of chapters.
Release Date: September 3rd 2015
Goodreads

Currently on page 18 of 107.
I just started reading this one the other day. I've followed Kate for a while on Twitter and I was really excited when I was allowed the chance to review her book. So far, I'm very intrigued about what's going to happen. The new family that's moved in next door certainly seem strange and I'm wondering if they have anything to do with the strange encounter that Jack had.
Release Date: September 2nd 2016
Goodreads

Currently on page 53 of 298.
This is another one that's got me rather intrigued. There's a cracking illustration at the beginning of each chapter and they really help set the mood for what you're about to read. So far, Robyn and her friend are the only ones who can see the strange creatures around them so I'm wondering where it's all going to lead.
Release Date: September 1st 2016
Goodreads
---
Blog Posts
Once again, I was trying to update daily on my ARC August progress.
15 | 16 | 17/18 | 19 | 20
I did a lot of reviews this week!
On Monday, we had Nina Is Not Ok and Cell 7.
Tuesday was With Malice and The Inquisition.
Wednesday saw Because I Love You and Buy Buy Baby.
On Thursday, we had Lying In Wait and Disclaimer.
And finally, on Friday, we had My Sister's Bones.