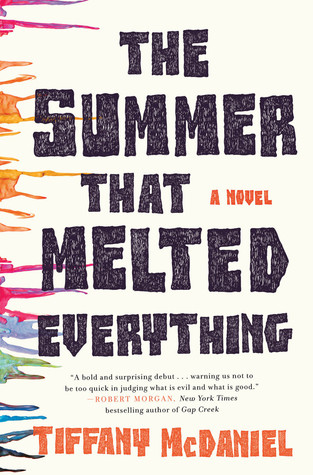 Title: The Summer That Melted Everything
Author: Tiffany McDaniel
Published: August 30th 2016
Publisher: St Martin's Press
Genre: Adult, Contemporary
Length: 320 pages
Source: eBook from the Author
Book Blurb (via Goodreads):
Fielding Bliss has never forgotten the summer of 1984: the year a heat wave scorched Breathed, Ohio. The year he became friends with the devil.

Sal seems to appear out of nowhere – a bruised and tattered thirteen-year-old boy claiming to be the devil himself answering an invitation. Fielding Bliss, the son of a local prosecutor, brings him home where he's welcomed into the Bliss family, assuming he's a runaway from a nearby farm town.

When word spreads that the devil has come to Breathed, not everyone is happy to welcome this self-proclaimed fallen angel. Murmurs follow him and tensions rise, along with the temperatures as an unbearable heat wave rolls into town right along with him.

As strange accidents start to occur, riled by the feverish heat, some in the town start to believe that Sal is exactly who he claims to be.

While the Bliss family wrestles with their own personal demons, a fanatic drives the town to the brink of a catastrophe that will change this sleepy Ohio backwater forever.
My Thoughts
This is one of those novels that I knew absolutely nothing about going in, but the premise was enough to grab me and get me excited. With an interesting narrative point, and a plot that seems simple on the surface but is so much more once you delve in, The Summer That Melted Everything is a classic in the making.
Fielding Bliss has never forgotten the summer of 1984, when his entire world was turned upside down and has never been righted. While reminiscing on the life that he had, Fielding is an old man angry at the world and living out the rest of his days in quiet solitude. That summer is burned into his memory: what his family went through, what his town went through, and all because of a letter his father posted in the paper and the appearance of a young boy.
This book was a difficult read. It took me longer than it usually would for me to a read a book of this length, but the writing is such that you can't rush through it. There's an elegance to the words that make you stop and ponder. I can honestly say that I can't recall reading a book that has made me want to slow down and take it all in as much as this one did. It's taken me far too long to write this review because I wasn't quite sure how to put my thoughts into words upon finishing.
Fielding Bliss was a wonderful character. Such pain in his narration. His jumble of thoughts, switching between past and present showed what a confused old man he had become and it was so sad to see. His world basically ended that summer. He was never the same and he never looked at the world the same either.
I don't know how to discuss everything that I would like to about this book without giving it away. There was just so much going on.
Fielding's father is a respected lawyer who one day writes a letter asking the devil to come to town. When a young boy shows up instead, claiming to be the devil, everyone thinks it's a joke at first. A troubled boy running away from something, but the things that Sal said had a knowledge that no boy should or could know. When tragic events start to happen throughout the town, one local puts the blame on Sal and suddenly the whole town turns on him – and on Fielding and his family too, since they took him in.
It has such a slow build up that when things start happening, you feel almost lost in the confusion of the events. It's that moment of no return. You have to keep turning the page to see what happens. This story is full of characters that each have such vivid personalities that you know them by the end. It's not a book for people looking for a light-hearted summer read. It's hard, and emotionally draining, but it's brilliant, too.
The Summer That Melted Everything is the first book I've read in a long time that made me stop and say 'wow' when I'd turned that final page. It's a book that has stayed with me since I finished it. I said it at the beginning, but I'll say it again now. This book reads like a classic, and I have no doubt it could become one of the great classics of our generation. Just a truly excellent read.
Buy Links!
Non-Affiliate
Amazon UK | Amazon US | Barnes & Noble | Book Depository | Book People | Waterstones
---
About the Author
Tiffany McDaniel is an Ohio native whose writing is inspired by the rolling hills and buckeye woods of the land she knows. She is also a poet, playwright, screenwriter, and artist. The Summer that Melted Everything is her debut novel.
*Biography from Goodreads