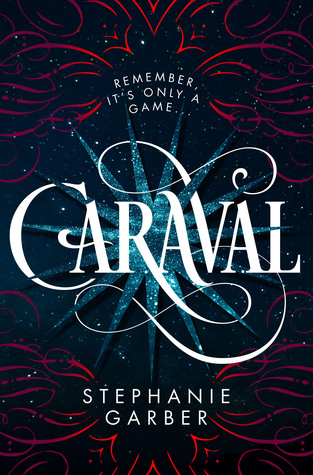 Title: Caraval
Author: Stephanie Garber
Published: January 31st 2017
Publisher: Flatiron Books
Genre: Young Adult, Fantasy
Length: 416 pages
Source: NetGalley eARC
Book Blurb (via Goodreads):
Whatever you've heard about Caraval, it doesn't compare to the reality. It's more than just a game or a performance. It's the closest you'll ever find to magic in this world . . .

Welcome, welcome to Caraval—Stephanie Garber's sweeping tale of two sisters who escape their ruthless father when they enter the dangerous intrigue of a legendary game.

Scarlett has never left the tiny island where she and her beloved sister, Tella, live with their powerful, and cruel, father. Now Scarlett's father has arranged a marriage for her, and Scarlett thinks her dreams of seeing Caraval, the far-away, once-a-year performance where the audience participates in the show, are over.

But this year, Scarlett's long-dreamt of invitation finally arrives. With the help of a mysterious sailor, Tella whisks Scarlett away to the show. Only, as soon as they arrive, Tella is kidnapped by Caraval's mastermind organizer, Legend. It turns out that this season's Caraval revolves around Tella, and whoever finds her first is the winner.

Scarlett has been told that everything that happens during Caraval is only an elaborate performance. But she nevertheless becomes enmeshed in a game of love, heartbreak, and magic with the other players in the game. And whether Caraval is real or not, she must find Tella before the five nights of the game are over, a dangerous domino effect of consequences is set off, and her sister disappears forever.
My Thoughts
This is one of those books that everyone seems to be talking about. It's got a lot of hype behind it and I think for some people, they might be disappointed with it. Personally, I loved it, but I went in with no expectations so I think that made the reading experience a lot better.
Scarlett has always done whatever she can to protect her wayward little sister, Tella. With her impending marriage looming, she thinks that they'll finally escape the brutal hand of their father, but when tickets to the wonderfully mysterious Caraval finally arrive after years of writing letters to the master of Caraval, Legend, Scarlett isn't willing to risk the life of safety she has worked so hard to get. When Tella works together with a sailor to whisk her sister away to the magical world, it seems like a dream… but Scarlett soon finds herself locked in a nightmare instead.
I enjoyed this book for several reasons, but I'll get the downsides over with first. This book is being sold as a story of sisterhood, but for a lot of the novel Scarlett forgets about her sister and is only focused on her feelings for the dashing rogue that makes her feel things she feels she shouldn't. It borders on cliché at times. Overly fanciful and flowery in language with wonderous shops and items to behold. It very much focuses on the romance rather than the sisters. I was okay with that. I realise not everyone will be though.
There was a neat story within the story that played quite a large part of the story, which I hadn't actually expected as I read. I thought it was cleverly woven into the story and brought back to the reader's attention at just the right moments. It wasn't so much a big twist at the end as a gentle reveal throughout for people who were paying attention to catch it – it's easy to lose yourself in the magic of the world.
I wasn't a huge fan of either of the sisters, to be honest. I found Tella to be irritating and Scarlett to be bothersome. While I didn't connect with any of the characters, I did find it easy to read, quick to fall into, and magical.
Garber does a terrific job of painting the world of Caraval in your mind and I feel it would probably work well as a movie – I honestly wouldn't be surprised if it gets picked up for one.
A truly magical read that will whisk readers away from the mundane world. Definitely one for readers who love a romance in their stories.
Buy Links!
Amazon UK | Amazon US | Barnes & Noble | Book Depository | Foyles | Waterstones
---
About the Author
*Picture from Goodreads