I'll admit right off the bat that I'm cheating a little bit with my list as I've already read a couple of the books, but I found it really hard to find books to put on this list because I don't always know when a book is a debut or not.
Anyways, on with the list!
---
1. Caraval by Stephanie Garber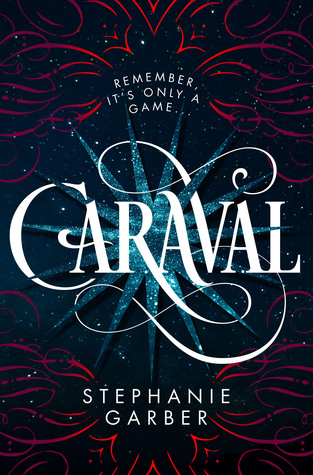 This first one is one that I've already read. I was lucky enough to get an eARC of this book through NetGalley and I honestly loved it. I still want to pick up a paperback though because it's going to be gorgeous!
Whatever you've heard about Caraval, it doesn't compare to the reality. It's more than just a game or a performance. It's the closest you'll ever find to magic in this world . . .

Welcome, welcome to Caraval―Stephanie Garber's sweeping tale of two sisters who escape their ruthless father when they enter the dangerous intrigue of a legendary game.

Scarlett has never left the tiny island where she and her beloved sister, Tella, live with their powerful, and cruel, father. Now Scarlett's father has arranged a marriage for her, and Scarlett thinks her dreams of seeing Caraval, the far-away, once-a-year performance where the audience participates in the show, are over.

But this year, Scarlett's long-dreamt of invitation finally arrives. With the help of a mysterious sailor, Tella whisks Scarlett away to the show. Only, as soon as they arrive, Tella is kidnapped by Caraval's mastermind organizer, Legend. It turns out that this season's Caraval revolves around Tella, and whoever finds her first is the winner.

Scarlett has been told that everything that happens during Caraval is only an elaborate performance. But she nevertheless becomes enmeshed in a game of love, heartbreak, and magic with the other players in the game. And whether Caraval is real or not, she must find Tella before the five nights of the game are over, a dangerous domino effect of consequences is set off, and her sister disappears forever.
Release Date: January 31st 2017
Goodreads
2. The Hate U Give by Angie Thomas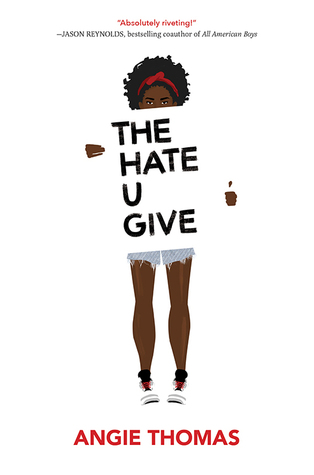 I'll admit that I don't actually know a lot about this one other than the fact that EVERYONE on my Twitter feed is raving about this book. I trust plenty of those folks' book choices so this is definitely one that I don't want to miss.
Sixteen-year-old Starr lives in two worlds: the poor neighbourhood where she was born and raised and her posh high school in the suburbs. The uneasy balance between them is shattered when Starr is the only witness to the fatal shooting of her unarmed best friend, Khalil, by a police officer. Now what Starr says could destroy her community. It could also get her killed. Inspired by the Black Lives Matter movement, this is a powerful and gripping YA novel about one girl's struggle for justice. Movie rights have been sold to Fox, with Amandla Stenberg (The Hunger Games) to star.
Release Date: February 28th 2017
Goodreads
3. The Hundred Lies of Lizzie Lovett by Chelsea Sedoti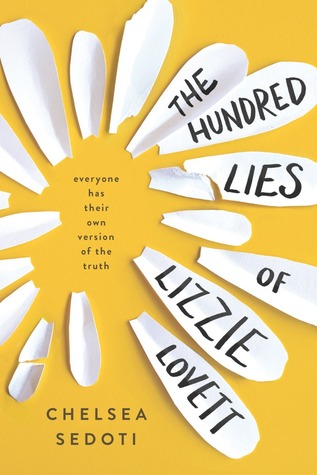 I read a preview of this one in a Buzz Books sampler (I think). The cover looks familiar to me and I'm trying to place it and Buzz Books is the only thing I can think of. If it's the book I'm thinking of, I was super intrigued by the pages I got to read and I'll definitely be keeping an eye out for it in the shops. If it's not the book I'm thinking about, I still want to read it to figure out why it looks so familiar to me!
A teenage misfit named Hawthorn Creely inserts herself in the investigation of missing person Lizzie Lovett, who disappeared mysteriously while camping with her boyfriend. Hawthorn doesn't mean to interfere, but she has a pretty crazy theory about what happened to Lizzie. In order to prove it, she decides to immerse herself in Lizzie's life. That includes taking her job… and her boyfriend. It's a huge risk — but it's just what Hawthorn needs to find her own place in the world.
Release Date: January 3rd 2017
Goodreads
4. Girl Out of Water by Laura Silverman
I follow Laura on Twitter and I was super excited to see her announcing her book. And then there was that whole controversy where someone took something she said and twisted it and then got a bunch of people to leave 1 star reviews on her book on Goodreads. I want to read this one for numerous reason but it's primarily because the blurb intrigued me before anything else.
Anise Sawyer plans to spend every minute of summer with her friends: surfing, chowing down on fish tacos drizzled with wasabi balsamic vinegar, and throwing bonfires that blaze until dawn. But when a serious car wreck leaves her aunt, a single mother of three, with two broken legs, it forces Anise to say goodbye for the first time to Santa Cruz, the waves, her friends, and even a kindling romance, and fly with her dad to Nebraska for the entire summer. Living in Nebraska isn't easy. Anise spends her days caring for her three younger cousins in the childhood home of her runaway mom, a wild figure who's been flickering in and out of her life since birth, appearing for weeks at a time and then disappearing again for months, or even years, without a word.

Complicating matters is Lincoln, a one-armed, charismatic skater who pushes Anise to trade her surfboard for a skateboard. As Anise draws closer to Lincoln and takes on the full burden and joy of her cousins, she loses touch with her friends back home – leading her to one terrifying question: will she turn out just like her mom and spend her life leaving behind the ones she loves
Release Date: May 1st 2017
Goodreads
5. Follow Me Back by A.V. Geiger
This is another one that I've already read but holy crap do I need the paperback in my life! This story completely sucked me in and I'm eagerly awaiting the release of the next in the series – although considering this one isn't published for another five months, I will be waiting a horrendously long time!
Tessa Hart's world feels very small. Confined to her bedroom with agoraphobia, her one escape is the online fandom for pop sensation Eric Thorn. When he tweets to his fans, it's like his speaking directly to her…

Eric Thorn is frightened by his obsessive fans. They take their devotion way too far. It doesn't help that his PR team keeps posting to encourage their fantasies.

When a fellow pop star is murdered at the hands of a fan, Eric knows he has to do something to shatter his online image fast—like take down one of his top Twitter followers. But Eric's plan to troll @TessaHeartsEric unexpectedly evolves into an online relationship deeper than either could have imagined. And when the two arrange to meet IRL, what should have made for the world's best episode of Catfish takes a deadly turn…

Told through tweets, direct messages, and police transcripts, Follow Me Back is the first book of a new duology. Written for the online generation, this thriller will keep you guessing right up to the shocking end.
Release Date: June 1st 2017
Goodreads
---
So that's my top five most anticipated debut books for 2017. There's a ton more that I probably could have included and just can't think of at the moment. What debuts are you looking forward to the most this year?
Have a great day x