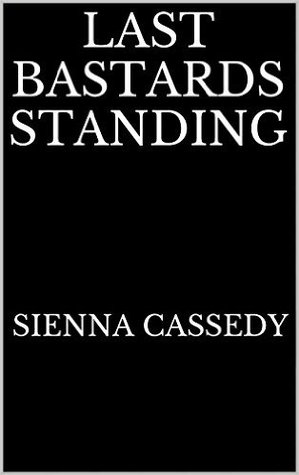 Title: Last Bastards Standing
Author: Sienna Cassedy
Published: August 9th 2015
Publisher: N/A
Genre: Adult
Length: 267 pages
Source: eBook provided by author
Book Blurb (via Goodreads):
Sal Bruce is a bastard. Tell her and she'll say Thank you. She might hand out a couple of insults, too. When Sal is not drinking, she is sleeping, and when she is not grousing loudly, she is judging silently.

No woman is an island, however, and Sal does occasionally find herself in the company of mad friends living on the edge of society and sanity. Life has kicked them in the face, but they keep going, and have great stories to tell.

What prevents Sal from the distance to the world she usually thinks rightfully hers, is her best friend Ernesto and his relentless plan to reveal the truth (about the government and in general) to the world. Sal and Ernesto have been friends since the time Sal helped Ernesto get out of the loony bin, and ever since then he has been constantly making Sal wonder whether insane is necessarily the least sane thing to be.

Last Bastards Standing is women's fiction without mush and melodrama. It hits where it hurts, but also where laughter and the sweet joy of (some extent of) recognition is felt.
My Thoughts
I liked the idea of this story when I first picked it up. A secluded writer with an attitude that has a high opinion of herself and the rest of the world be damned sounded like a great break from the norm. Sadly, the story fell a little flat for me overall but it was still an enjoyable read.
Sal Bruce is a writer. She's got the perfect book if only the world would recognise it. Grumbling her way through her days, Sal is taken on an adventure with her equally strange friend, Ernesto as he tries to suss out a government plot that only he seems to know or care about. Sal's just along for the ride, or so it seems.
I'm not really sure where to start with this one for a number of reasons. On the one hand, it was an entertaining story that was very much character driven, but on the other hand (to me) there wasn't a plot.
Sal takes us through her days and talks about the things she does and the people she meets. She's not afraid to speak her mind about what she's really thinking, and that's great. It's a great narrative and her voice is very distinct. However, the journey that takes up most of the book which she takes with Ernesto is repetitive and doesn't go anywhere.
They go from meeting to meeting, picking up information from different people and we learn a little about each person as we go (that's the good part), but each time it's the same thing. By the time we reach the end of the book, it's like there's pages missing. It just ends. There's not a satisfying conclusion and I felt rather cheated about it, to be honest.
The majority of this story is taken up with this journey. We're wrapped up in what the characters are collecting and what purpose it's going to serve and then just as they mention they're going to see the person at the top of the conspiracy… it ends.
It was one of those 'wait… what?' moments.
However, if you don't mind that kind of conclusion, this story is actually a really good story about some people who might not be all there but have some amazing adventures and stories to tell. It's violent and full of swears, so if that's not your thing, turn away.
Not one that I would personally recommend, but not one that I thought was utterly terrible.