Books Finished

Release Date: February 9th 2017
Goodreads
I actually finished this one last week but forgot to include it in the Week In Review so here it is.
We are the trees. We are the snow.

We are the winter.

We are the peace. We are the rage.

Cut off from civilization by the harsh winter of northern Sweden, the Stromberg family shelter in their old plantation house. There are figures lurking in the ancient pine forests and they're closing in. With nothing but four walls between the Strombergs and the evil that's outside, they watch and wait for the snows to melt.

But in the face of signs that there's an even greater danger waiting to strike, it becomes increasingly difficult to distinguish reality from illusion. All they've got to do is stay sane and survive the winter…

Release Date: August 27th 2015
Goodreads
Rachel Jenner turned her back for a moment. Now her eight-year-old son Ben is missing.

But what really happened that fateful afternoon?

Caught between her personal tragedy and a public who have turned against her, there is nobody left who Rachel can trust. But can the nation trust Rachel?

The clock is ticking to find Ben alive.

WHOSE SIDE ARE YOU ON?

Release Date: April 6th 2017
Goodreads
A road-trip story about following your dreams and embracing the unexpected.

Megan knows what she wants out of life and she intends to get it, whatever her parents say.

Elliott has given up on all his plans for the future – but then Megan bursts into his life with a proposal that could change it forever.

Together they embark on a road trip to escape their hometown and chase their dreams. But life is a journey and not even Megan can control where theirs will lead…

Perfect for fans of Sarah Dessen, Rainbow Rowell and Non Pratt.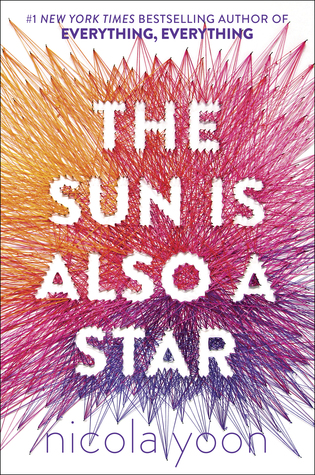 Release Date: November 1st 2016
Goodreads
Natasha: I'm a girl who believes in science and facts. Not fate. Not destiny. Or dreams that will never come true. I'm definitely not the kind of girl who meets a cute boy on a crowded New York City street and falls in love with him. Not when my family is twelve hours away from being deported to Jamaica. Falling in love with him won't be my story.

Daniel: I've always been the good son, the good student, living up to my parents' high expectations. Never the poet. Or the dreamer. But when I see her, I forget about all that. Something about Natasha makes me think that fate has something much more extraordinary in store—for both of us.

The Universe: Every moment in our lives has brought us to this single moment. A million futures lie before us. Which one will come true?
Books Read

Currently on page 278 of 373.
Release Date: March 2nd 2017
Goodreads
The number of women my brother Matthew killed, so far as I can reckon it, is one hundred and six…

1645. When Alice Hopkins' husband dies in a tragic accident, she has no choice but to return to the small Essex town of Manningtree, where her brother Matthew still lives.

But home is no longer a place of safety. Matthew has changed, and there are rumours spreading through the town: whispers of witches, and of a great book, in which her brother is gathering women's names.

To what lengths will her brother's obsession drive him?
And what choice will Alice make, when she finds herself at the very heart of his plan?

Currently on 16%
Release Date: October 6th 2016
Goodreads
In 1935, young medic Stephen Pearce travels to India to join an expedition with his brother, Kits. The elite team of five will climb Kangchenjunga, the world's third highest mountain and one of mountaineering's biggest killers. No one has scaled it before, and they are, quite literally, following in the footsteps of one of the most famous mountain disasters of all time – the 1907 Lyell Expedition.

Five men lost their lives back then, overcome by the atrocious weather, misfortune and 'mountain sickness' at such high altitudes. Lyell became a classic British hero when he published his memoir, Bloody, But Unbowed, which regaled his heroism in the face of extreme odds. It is this book that will guide this new group to get to the very top.

As the team prepare for the epic climb, Pearce's unease about the expedition deepens. The only other survivor of the 1907 expedition, Charles Tennant, warns him off. He hints of dark things ahead and tells Pearce that, while five men lost their lives on the mountain, only four were laid to rest.

But Pearce is determined to go ahead and complete something that he has dreamed of his entire life. As they get higher and higher, and the oxygen levels drop, he starts to see dark things out of the corners of his eyes. As macabre mementoes of the earlier climbers turn up on the trail, Stephen starts to suspect that Charles Lyell's account of the tragedy was perhaps not the full story…
Blog Posts
Monday
February TBR Update | #TBRTakedown 5.0 Wrap Up
Tuesday
N/A
Wednesday
Top 5 Wednesday: Non-Written Books
Thursday
N/A
Friday
Friday Faves: Loved Up Stories
Saturday
Side Challenge Saturday: Tackling My Currently Reading Shelf