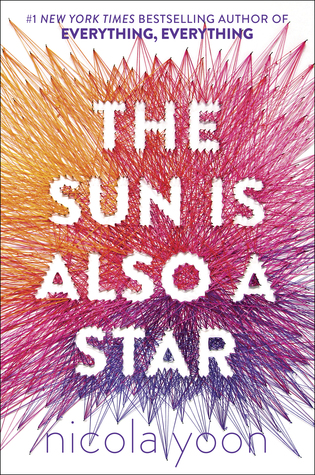 Title: The Sun Is Also A Star
Author: Nicola Yoon
Published: November 1st 2016
Publisher: Delacorte Press
Genre: Young Adult, Contemporary, Romance
Length: 384 pages
Source: Paperback purchased from Waterstones
Book Blurb (via Goodreads):
Natasha: I'm a girl who believes in science and facts. Not fate. Not destiny. Or dreams that will never come true. I'm definitely not the kind of girl who meets a cute boy on a crowded New York City street and falls in love with him. Not when my family is twelve hours away from being deported to Jamaica. Falling in love with him won't be my story.

Daniel: I've always been the good son, the good student, living up to my parents' high expectations. Never the poet. Or the dreamer. But when I see her, I forget about all that. Something about Natasha makes me think that fate has something much more extraordinary in store—for both of us.

The Universe: Every moment in our lives has brought us to this single moment. A million futures lie before us. Which one will come true?
My Thoughts
You can read my review of Nicola's first novel Everything, Everything here.
Nicola Yoon's writing captivated me when I read Everything, Everything and I was really excited when I finally picked up this book. While it's vastly different from her first book, I enjoyed this one too. Yoon has a lyrical essence to her writing that brings her characters to life.
Natasha's family are being deported and she's doing everything she can to stop it. Daniel is on his way to have his interview with destiny, whether it's a destiny he wants or not. In the space of a single day, things can change forever, as Natasha and Daniel are about to discover. Is it possible to fall in love when you don't believe in it? Is it possible to fall too hard?
This book has such a beautiful story of love in the heart of a terrible story of helplessness. Natasha tries everything in her power to keep her life in America, to reverse the decision made to deport her family, and it all turns out to be for nothing. She's just found Daniel, is falling in love despite not really believing it to be real, and all of it is about to be ripped away from her.
In contrast, Daniel feels like he's heading towards the inevitable for the rest of his life. Unwillingly going along with the plans that his parents have set out for him. Trying to be the good son for them to make up for the failings of the supposed perfect older brother.
These two brought their world to life so vividly that I was lost in their lives from the first page. I also loved that there were little side notes too, chapters that weren't from either Daniel or Natasha's perspective. Inconsequential people who turned out to have a rather important part in that single day in their lives.
As one event leads to another, then another, you can't help but question the inevitability of fate. Do things happen for a reason or is it really down to chance? With the dreamer Daniel and the scientific Natasha, both avenues are explored and considered.
For me, this was a beautiful story. It made me tear up, it made me laugh. It explores two cultures that I am unfamiliar with and I found the stories of immigration to be fascinating and harrowing. Yoon's writing always makes me stop and think. Makes me question what I know, or what I think I know. It's powerful stuff.
Buy Links!
Amazon UK | Amazon US | Barnes & Noble | Book Depository | Book People | Foyles | Waterstones
---
About the Author
Nicola Yoon grew up in Jamaica (the island) and Brooklyn (part of Long Island). She currently resides in Los Angeles, CA with her husband and daughter, both of whom she loves beyond all reason. Everything, Everything is her first novel.
*Picture and Biography from Goodreads