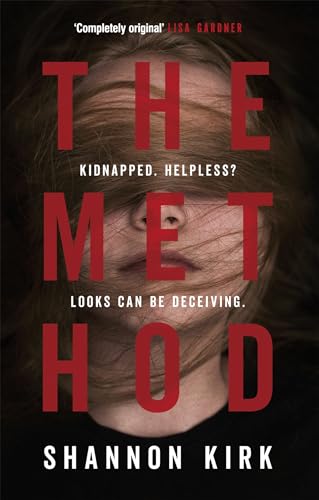 Title: The Method
Author: Shannon Kirk
Published: March 2nd 2017 (Originally May 5th 2015)
Publisher: Sphere
Genre: Adult, Mystery, Thriller
Length: 326 pages
Source: Paperback from Publisher
Book Blurb (via Goodreads):
They thought she was the victim, but they're the ones in danger . . .

Imagine a helpless, pregnant 16-year-old who's just been yanked from the serenity of her home and shoved into a dirty van. Kidnapped . . . Alone . . . Terrified.

Now forget her . . .

Picture instead a pregnant, 16-year-old, manipulative prodigy. She is shoved into a dirty van and, from the first moment of her kidnapping, feels a calm desire for two things: to save her unborn son and to exact merciless revenge.

She is methodical – calculating – scientific in her plotting. Leaving nothing to chance, she waits . . . for the perfect moment to strike. The Method is what happens when the victim is just as cold as the captors.
My Thoughts
The premise of this book grabbed me immediately. It's one of those books that seems like it's a simple idea but has such an awe-inspiring multi-layered plot that it constantly blows your mind throughout reading.
As a 16 year old, pregnant girl, she was kidnapped because they wanted her baby but who was really the prey and who was really the hunter? She isn't an ordinary teenager, and they're about to find out.
I can't really do a good summary for this book because it is so easy to spoil it by saying just the tiniest thing. It's going to make this review a little harder to write, but I'm going to be gushing about a lot of it so it shouldn't too hard.
First off, let's talk about the characters. The story has dual perspectives: that of the kidnapped girl re-telling the tale after seventeen years, and that of the FBI agent who was in charge of finding her. The girl isn't completely normal. She has trouble understanding emotions properly and can turn her own off or on with the flick of a mental switch. She's insanely clever, with her own laboratory in her parents' basement, and methodical. So when she finds herself kidnapped at seven months pregnant, she doesn't let herself get taken over by fear and starts to plan her escape – and revenge.
Agent Liu has his own reasons for constantly taking on kidnapping cases, ones that haunt him even to this day, but this one case in particular stayed with him. Doing his best with the resources he has, he's fighting to find the pregnant teen in time, hoping to deliver both her and her baby back safely.
The pair of them make a formidable team when they finally meet and I liked the bond that they shared. They are two people who aren't quite able to fit in with regular folk and it works for them.
Now, to the plot. This story is so very clever. I had a couple of moments where I had to stop and appreciate the twist that I had just read. It's still a mystery that lulls you in with some red herrings and whatnot, but I think it's more than that. It's not about pointing in the wrong direction for who did it – we pretty much know from the start. This book is all about the downfall of the kidnappers, what happened to them and how.
A truly original kidnapping story, this one had me hooked.
Buy Links!
Amazon UK | Amazon US | Barnes & Noble | Book Depository | Book People | Foyles | Waterstones
---
About the Author
My top 11 books of all time are as follows, in the following order–as in, if I was allowed only 11 books to bring to a deserted island where I was marooned for the rest of my life, these are what I would pack:
1. Love in the Time of Cholera (Gabo)
2. Orphan Master's Son (Adam Johnson)
3. The Mummy Market (Nancy Brelis), tragically out of print, which makes ZERO sense because it's a classic
4. The Incarnations (Susan Barker) AMAZING
5. Life of Pi (Yann Martel)
6. Memoirs of a Geisha (Arthur Golden)
7. Swamplandia, and every single word ever written by: (Karen Russell)
8. Everything is Illuminated (Jonathan Safran Foer)
9. The Sea (John Banville)
10. Anything at all ever written by Joshilyn Jackson.
11. Kiss the Girls (Patterson)
Further to my literary likes, I consider Gabriel Garcia Marquez and Charles Dickens to be actual, literal geniuses; if we had brain scans of their brains, we wouldn't understand what we're seeing. I prefer more prose than dialogue; prefer poetry over intricate plot, but love if I can have both (hence, Love in the Time of Cholera being #1 and Orphan Master's Son #2).
But I'm never really consistent with this anyway. If I'm pulled to keep reading the book, I'll keep reading the book.
*Picture and Biography from Goodreads