Books Finished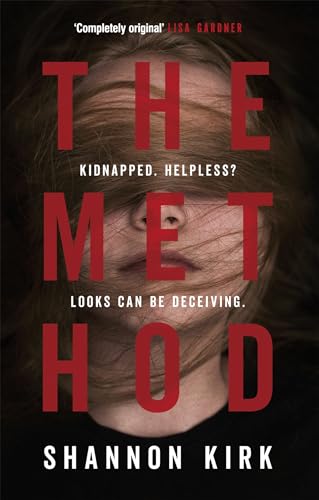 Release Date: March 2nd 2017 (Originally May 5th 2015)
Goodreads
They thought she was the victim, but they're the ones in danger . . .

Imagine a helpless, pregnant 16-year-old who's just been yanked from the serenity of her home and shoved into a dirty van. Kidnapped . . . Alone . . . Terrified.

Now forget her . . .

Picture instead a pregnant, 16-year-old, manipulative prodigy. She is shoved into a dirty van and, from the first moment of her kidnapping, feels a calm desire for two things: to save her unborn son and to exact merciless revenge.

She is methodical – calculating – scientific in her plotting. Leaving nothing to chance, she waits . . . for the perfect moment to strike. TheMethod is what happens when the victim is just as cold as the captors.

Release Date: April 6th 2016
Goodreads
Patricia's dream is coming true: she is directing her own play, a one-act written by her best friend, Grizz, for the school's annual Drama Festival. Everything seems to be perfect until her teacher assigns Kurt Minola, the biggest jerk in the school, to work on her play. Kurt is lazy, selfish and irresponsible. The only good thing about him is his attractive twin brother, Ben—but even he can't seem to change Kurt's attitude. Kurt's presence turns Patricia's dream into a nightmare… until Patricia and Grizz decide to take matters into their own hands, and subject this insufferable surfer-dude to some taming.

A YA retelling of William Shakespeare's timeless The Taming of the Shrew.
Books Read

Currently on page 52 of 246.
Release Date: October 6th 2015
Goodreads
Prepare to be spellbound by Jim Kay's dazzling depiction of the wizarding world and much loved characters in this full-colour illustrated hardback edition of the nation's favourite children's book – Harry Potter and the Philosopher's Stone. Brimming with rich detail and humour that perfectly complements J.K. Rowling's timeless classic, Jim Kay's glorious illustrations will captivate fans and new readers alike.

When a letter arrives for unhappy but ordinary Harry Potter, a decade-old secret is revealed to him that apparently he's the last to know. His parents were wizards, killed by a Dark Lord's curse when Harry was just a baby, and which he somehow survived. Leaving his unsympathetic aunt and uncle for Hogwarts School of Witchcraft and Wizardry, Harry stumbles upon a sinister mystery when he finds a three-headed dog guarding a room on the third floor. Then he hears of a missing stone with astonishing powers, which could be valuable, dangerous – or both. An incredible adventure is about to begin!

Currently on page 268 of 437.
Release Date: June 2nd 2016
Goodreads
Katie's life is falling apart: her mum's controlling, her dad's run off, she's in love with someone whose identity she can't reveal and now her estranged grandmother's turned up on the doorstep and Katie's expected to take care of her. Soon Katie discovers she's not the only one in her family hiding the truth. If she's going to get her life back together, she's going to have to expose everyone's deepest secrets – including her own.

Currently on page 213 of 325.
Release Date: July 7th 2014 (Originally February 26th 2013)
Goodreads
Eleanor is the new girl in town, and she's never felt more alone. All mismatched clothes, mad red hair and chaotic home life, she couldn't stick out more if she tried.

Then she takes the seat on the bus next to Park. Quiet, careful and – in Eleanor's eyes – impossibly cool, Park's worked out that flying under the radar is the best way to get by.

Slowly, steadily, through late-night conversations and an ever-growing stack of mix tapes, Eleanor and Park fall in love. They fall in love the way you do the first time, when you're 16, and you have nothing and everything to lose.

Set over the course of one school year in 1986, Eleanor & Park is funny, sad, shocking and true – an exquisite nostalgia trip for anyone who has never forgotten their first love.
Blog Posts
Monday
February TBR: Update
Tuesday
In Another Life Review | Burnt Paper Sky Review | The Method Review
Wednesday
N/A
Thursday
N/A
Friday
N/A
Saturday
Side Challenge Saturday: Tackling My Currently Reading Shelf Update 2