---
Books Finished

Release Date: June 2nd 2016
Goodreads
Katie's life is falling apart: her mum's controlling, her dad's run off, she's in love with someone whose identity she can't reveal and now her estranged grandmother's turned up on the doorstep and Katie's expected to take care of her. Soon Katie discovers she's not the only one in her family hiding the truth. If she's going to get her life back together, she's going to have to expose everyone's deepest secrets – including her own.

Release Date: July 7th 2014 (Originally February 26th 2013)
Goodreads
Eleanor is the new girl in town, and she's never felt more alone. All mismatched clothes, mad red hair and chaotic home life, she couldn't stick out more if she tried.

Then she takes the seat on the bus next to Park. Quiet, careful and – in Eleanor's eyes – impossibly cool, Park's worked out that flying under the radar is the best way to get by.

Slowly, steadily, through late-night conversations and an ever-growing stack of mix tapes, Eleanor and Park fall in love. They fall in love the way you do the first time, when you're 16, and you have nothing and everything to lose.

Set over the course of one school year in 1986, Eleanor & Park is funny, sad, shocking and true – an exquisite nostalgia trip for anyone who has never forgotten their first love.

Release Date: May 5th 2016 (Originally March 24th 2016)
Goodreads
Unique, transgressive and as funny as its subject, A Life Discarded has all the suspense of a murder mystery. Written with his characteristic warmth, respect and humour, Masters asks you to join him in celebrating an unknown and important life left on the scrap heap.

A Life Discarded is a biographical detective story. In 2001, 148 tattered and mould-covered notebooks were discovered lying among broken bricks in a skip on a building site in Cambridge. Tens of thousands of pages were filled to the edges with urgent handwriting. They were a small part of an intimate, anonymous diary, starting in 1952 and ending half a century later, a few weeks before the books were thrown out. Over five years, the award-winning biographer Alexander Masters uncovers the identity and real history of their author, with an astounding final revelation.

A Life Discarded is a true, shocking, poignant, often hilarious story of an ordinary life. The author of the diaries, known only as 'I', is the tragicomic patron saint of everyone who feels their life should have been more successful. Part thrilling detective story, part love story, part social history, A Life Discarded is also an account of two writers' obsessions: of 'I's need to record every second of life and of Masters' pursuit of this mysterious yet universal diarist.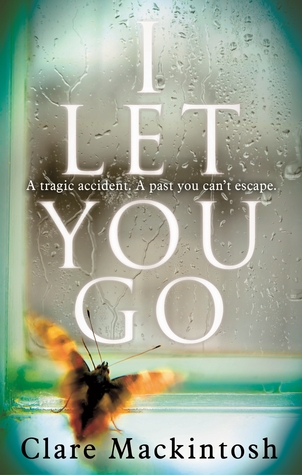 Release Date: November 9th 2014
Goodreads
In a split second, Jenna Gray's world descends into a nightmare. Her only hope of moving on is to walk away from everything she knows to start afresh. Desperate to escape, Jenna moves to a remote cottage on the Welsh coast, but she is haunted by her fears, her grief and her memories of a cruel November night that changed her life forever.

Slowly, Jenna begins to glimpse the potential for happiness in her future. But her past is about to catch up with her, and the consequences will be devastating . . .
Books Read

Currently on page 149 of 248.
Release Date: October 6th 2015
Goodreads
Prepare to be spellbound by Jim Kay's dazzling depiction of the wizarding world and much loved characters in this full-colour illustrated hardback edition of the nation's favourite children's book – Harry Potter and the Philosopher's Stone. Brimming with rich detail and humour that perfectly complements J.K. Rowling's timeless classic, Jim Kay's glorious illustrations will captivate fans and new readers alike.

When a letter arrives for unhappy but ordinary Harry Potter, a decade-old secret is revealed to him that apparently he's the last to know. His parents were wizards, killed by a Dark Lord's curse when Harry was just a baby, and which he somehow survived. Leaving his unsympathetic aunt and uncle for Hogwarts School of Witchcraft and Wizardry, Harry stumbles upon a sinister mystery when he finds a three-headed dog guarding a room on the third floor. Then he hears of a missing stone with astonishing powers, which could be valuable, dangerous – or both. An incredible adventure is about to begin!

Currently on page 32 of 373.
Release Date: April 4th 2017
Goodreads
Quinn Cutler is sixteen and the daughter of a high-profile Brooklyn politician. She's also pregnant, a crisis made infinitely more shocking by the fact that she has no memory of ever having sex. Before Quinn can solve this deeply troubling mystery, her story becomes public. Rumors spread, jeopardizing her reputation, her relationship with a boyfriend she adores, and her father's campaign for Congress. Religious fanatics gather at the Cutlers' home, believing Quinn is a virgin, pregnant with the next messiah. Quinn's desperate search for answers uncovers lies and family secrets—strange, possibly supernatural ones. Might she, in fact, be a virgin?
Blog Posts
Monday
N/A
Tuesday
N/A
Wednesday
Top Five Wednesday: Top SFF Reads
Thursday
A Life Discarded Review | The Taming of the Dudebro Review
Friday
N/A
Saturday
Side Challenge Saturday: Tackling My Currently Reading Shelf Update Three | America Deconstructed: Anthology of stories by immigrants to America Guest Post | Sample America Deconstructed Review