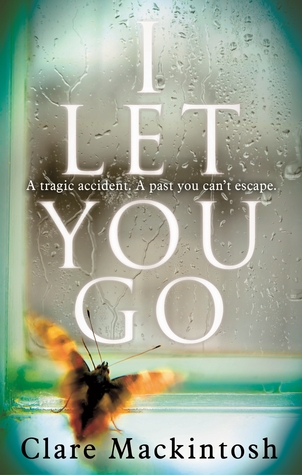 Title: I Let You Go
Author: Clare Mackintosh
Published: November 9th 2014
Publisher: Sphere
Genre: Adult, Mystery, Thriller
Length: 371 pages
Source: NetGalley eARC and purchased paperback
Book Blurb (via Goodreads):
In a split second, Jenna Gray's world descends into a nightmare. Her only hope of moving on is to walk away from everything she knows to start afresh. Desperate to escape, Jenna moves to a remote cottage on the Welsh coast, but she is haunted by her fears, her grief and her memories of a cruel November night that changed her life forever.

Slowly, Jenna begins to glimpse the potential for happiness in her future. But her past is about to catch up with her, and the consequences will be devastating . . .
My Thoughts
I go through phases where all I want to read is something twisty. Something that will completely suck me into the story and I won't be able to put the book down until I either figure out what is going on, or discover it along the way. This is one of those books.
Jenna Gray's life changes forever one fateful night in November. After the tragic death of five-year-old Jacob, Jenna escapes to Wales. She needs a fresh start and the isolation of a cottage on the Welsh coast is exactly what she needs. But the past has a way of catching up with everyone, and it's not long before it comes knocking on Jenna's door.
This book is genius. Holy crap, I was in this book so fully that I had my mind blown by it several times over. I love thrillers. I love trying to work it all out and when I get truly surprised by a book, it makes for an excellent read. This book had one major twist roughly half way through that just threw me for a loop. I hadn't expected it, hadn't even had an inclining that what I was reading wasn't all it was made out to be. Utterly genius.
Poor Jenna was really put through the ringer. Guilt and grief bubbled out of her core and I couldn't help but feel sorry for her. Just as she was rebuilding her life – a successful photography business, a doting puppy and an adorable boyfriend – the past rears its head and she's thrown back into turbulence and her life becomes uncertain.
Ray made a great detective. You could see his faults from the beginning. The poor man couldn't let things go. His job always came before his family and he was having some conflicting feelings about his younger partner. I felt all the characters in this were real.
There's some difficult topics covered in this book. I would avoid this if any of the following is distressing for you: domestic abuse, animal abuse, miscarriage, death of a child. It's quite hard to read at times, particularly when it comes to the abuse. While I didn't particularly enjoy those sections, they were in the perspective of the abuser and it gave an insight into their psyche which was valuable for the plot.
This is definitely one for fans of thrillers. It's difficult to review it properly without giving away spoilers but this is definitely a multi-layered read that sucks you right in. Highly recommend.
Buy Links!
Amazon UK | Amazon US | Book Depository | Book People | Foyles | Waterstones
---
About the Author
Clare Mackintosh spent twelve years in the police force, including time on CID, and as a public order commander. She left the police in 2011 to work as a freelance journalist and social media consultant and is the founder of the Chipping Norton Literary Festival. She now writes full time and lives in the Cotswolds with her husband and their three children.
Clare's debut novel, I Let You Go, is a Sunday Times bestseller and was the fastest-selling title by a new crime writer in 2015. It was selected for both the Richard and Judy Book Club, and was the winning title of the readers' vote for the summer 2015 selection, and ITV's Loose Women's Loose Books. Her second novel, I See You, is a number 1 Sunday Times bestseller. Clare's books are translated into more than 30 languages.
Clare is the patron of the Silver Star Society, an Oxford-based charity which supports the work carried out in the John Radcliffe Hospital's Silver Star unit, providing special care for mothers with medical complications during pregnancy.
*Picture and Biography from Goodreads